Flyweight champ Demetrious Johnson out of UFC 201 due to injury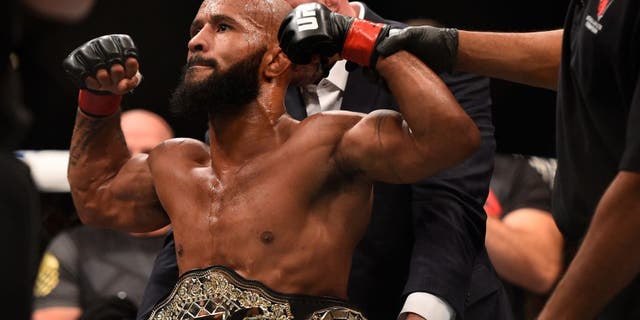 NEWYou can now listen to Fox News articles!
Flyweight champion Demetrious Johnson has suffered an injury and will be forced out of his UFC 201 co-main event bout against Wilson Reis on July 30.
Sources close to the situation confirmed the news to FOX Sports on Friday following an initial report from Globo in Brazil.
UFC officials have not made any statement regarding Johnson's injury or if the fight with Reis will be rescheduled for a later date.
There's no word at this time what injury forced Johnson to drop out of the fight, but with the card taking place in three weeks, it was clearly enough that he couldn't compete on July 30.
Johnson was fighting at UFC 201 and with a victory he was expected to meet the winner of the upcoming season of "The Ultimate Fighter" in December.
The new season of the long-running reality show will feature an all-flyweight cast coached by Joseph Benavidez and Henry Cejudo with the winner then facing the champion later this year.
Without knowing the extent of the injury or how long Johnson will be sidelined, it's impossible to know if the UFC would still try to rebook his fight with Reis or allow the flyweight champion to just return in December instead.
The UFC 201 main event features a welterweight title fight between Robbie Lawler and Tyron Woodley with several more marquee bouts already featured on the card.