Flying High: Handler Gabriel Rangel Leads Fox Terrier Sky To Westminster Pinnacle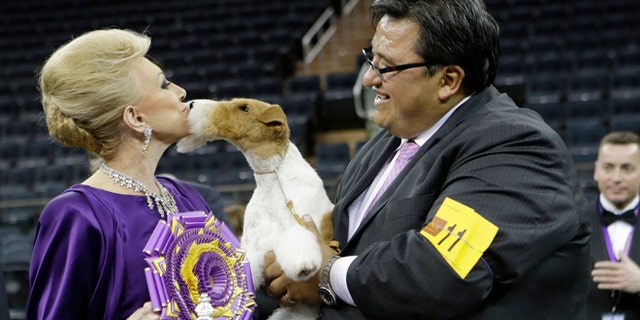 A 5-year-old wire fox terrier called Sky won best in show at the Westminster Kennel Club in New York City on Tuesday night, finishing off a season in which she was ranked the nation's No. 1 dog, and in large part thanks to her handler - Gabriel Rangel.
Rangel scooped up Sky in one arm after she was picked as America's top dog winning the big award at the pinnacle of dog shows. He kissed judge Betty Regina Leininger's hand as the title was awarded inside a nearly full Madison Square Garden.
Rangel may've learned that trick from his dog.
"Her personality is she loves to kiss people and she connects with everybody," Rangel said.
Rangel, 50, from Rialto, Calif., first fell in love with dog shows as a kid in Mexico City while watching "The Ugly Dachsund." Today, he and his wife Ivonne, 46, are professional groomers, trainers and dog handlers, may show as many as 25 dogs at a single show. As detailed by the Riverside, Calif., Press Enterprise, the dog training power couple met at a dog show in El Monte, Mexico and married in 1990. Since then both Rangel and Ivonne have made a life out of being best in show exercising and training the 40 to 50 dogs they typically have in their care while being parents to their three children.
Rangel has been a handler for a champion dog before. In 2010, he and Scottish terrier, Sadie, won best in show at the Westminster.
But Sky, who's full name is Afterall Painting the Sky, is one of the most accomplished dogs ever. This was her 129th best in show ribbon overall — she became a doggie triple crown winner, having previously won the National Dog Show and the AKC/Eukanuba National Championship. It was the 14th time a wire fox terrier has won at Westminster. No other breed has won more than eight.
"I think she's a beautiful dog. She has the most beautiful face and is the correct size and she just loves to show, a lot of good things going for her," Rangel said on FOX & Friends. "It was really shocking. You could never be prepared for it. I've won before, but you can never be prepared for it."
There were 2,845 dogs entered in the 138th Westminster Kennel Club show. They were eligible in 190 breeds and varieties. Even so Rangel and Sky stood out.
"You can tell they have a total bond," David Frei, Westminster director of communications, said on FOX & Friends Wednesday morning. "The dog looks to Gabriel for leadership and sometimes with a terrier that's a little tough because it's their world and we're just living in it ... but Gabriel's an expert and a master handler and he has a great relationship with Sky."
Not long after watching "The Ugly Dachsund," Rangel began his love affair with dogs. Growing up, he spent as many as four hours a day walking up to 10 neighbors' dogs.
That kind of passion is what led Rangel to become a groomer in Mexico and to start attending dog shows in the United States at the invitation of breeders who he worked for.
Within a few years, he found work in the U.S., eventually becoming a citizen in 1995, according to the Press Enterprise.
As for Sky, she is now officially retired. She will be spending her golden years shuttling between her co-owners, who live in Malibu, Calif., and in Brazil.
"It's like winning an Oscar," said Victor Malzoni Jr., a Brazilian economist and one of Sky's co-owners.
Nathan the bloodhound was clearly the crowd's favorite at Westminster, drawing the largest cheers as all seven dogs circled around in the final ring.
It was a star-studded group. The miniature pinscher, Classie, had won 121 best in shows. Matisse the Portuguese water dog is a cousin of President Barack Obama's newest pet, Sunny.
But once again, a terrier prevailed. Terriers have taken 46 of the 105 best in show ribbons presented at Westminster, an event that dates to the late 19th century.
This time, it was Sky's turn.
"She's a princess," Rangel said.
The Associated Press contributed to this report.