Flying bat hits fan in the head during Padres-Rockies game at Petco Park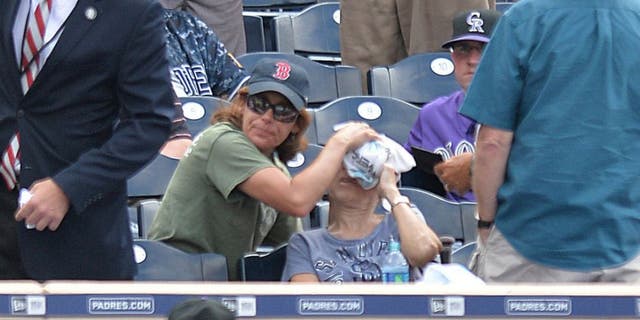 A fan injured during a scary incident in Thursdays Rockies-Padres at Petco Park appears to have escaped serious harm. A woman was hit in the head by a bat that flew out of the hands of Padres catcher Hector Sanchez in the ninth inning.
The woman received medical assistance in her seat before being transported to the hospital and the game was delayed for about 13 minutes, according to The San Diego Union-Tribune. Her husband also was hit by the bat but wasnt injured.
A volunteer EMT sitting two rows behind the woman came to her aid immediately, telling the newspaper that the bat left about a two- to three-inch laceration with indentation, but she didnt lose consciousness. She was lucid.
The Padres released this update shortly after the game:
Sanchez was still shaken by the incident afterward when talking to reporters: It's pretty bad. I feel really, really bad. Especially to see that it hit a lady. It's pretty sad. I just feel sorry for her. I hope she's well.
Fortunately, it appears that is the case.