Flyers have faith in Bobrovsky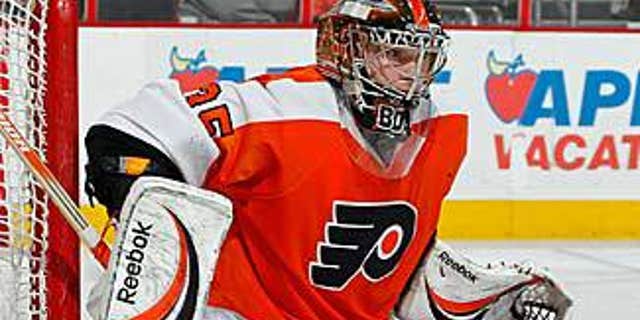 PHILADELPHIA -- The Philadelphia Flyers beat the New York Islanders 7-4 at the Wells Fargo Center on Saturday in their regular-season finale to win their first division title since the 2003-04 season.
That last division title also came in Game 82, after a game against the Islanders.
Their goalie that day was Robert Esche, who allowed three goals on 26 shots in what ended as a 3-3 tie. Esche had been named the playoff starter by then-coach Ken Hitchcock, but was going into his first postseason as a starting goalie on a four-game winless skid.
A similar situation is playing out this season, as Sergei Bobrovsky will enter his first Stanley Cup Playoffs as the Game 1 starter, but in his final regular-season game he allowed three goals on 10 shots and was pulled 12:05 into Saturday's game. Bobrovsky will enter the postseason without a win in five games.
Esche responded to his tough end to the season with by stopping 37 of 39 shots against the New Jersey Devils in Game 1 of the first round and outplaying future Hall of Famer Martin Brodeur as the Flyers beat the Devils in five games. Esche out-dueled Toronto's Ed Belfour in the second round, and helped lead the Flyers to Game 7 of the Eastern Conference Finals against the eventual Stanley Cup champion Tampa Bay Lightning.
The present-day Flyers are confident a similar scenario could play out with Bobrovsky.
"I don't worry about Bob," said defenseman Andrej Meszaros. "He's going to be good."
Bobrovsky finished his first NHL regular season 28-13-8 with a 2.59 goals-against average and .915 save percentage.
"He's been strong for us all year, he's had a great season," said veteran backup Brian Boucher. "He's got 28 wins as a rookie. I wish I had that when I was a rookie. He should be very proud, he's had a great season."
He wasn't that great Saturday, however, but Boucher was, stopping 25 of 26 shots to allow the Flyers to rally from a 4-3 deficit to take a 7-4 victory. Boucher went 18-10-4 this season, with a 2.42 GAA and .916 save percentage.
Rather than create a goaltending controversy, however, all Boucher's play does is reinforce what the team has felt all season, and that's a high level of confidence and comfort regardless of who is between the pipes. That includes Michael Leighton, who was called up last week to serve as an extra goalie. In case anyone's forgotten, he's the goalie who helped save the Flyers last season when he arrived on waivers in December, helped backstop the rally from 3-0 down against the Bruins in the conference semifinals and pitched three shutouts in five games against the Canadiens in the Eastern Conference Finals.
"What Leighton did last year in the playoffs for us, we believe we have three guys who can get the job done no matter what happens," said Danny Briere.
"I think there's a confidence and a belief in our team in our goaltenders," said coach Peter Laviolette. "We've said that all year long."
And Laviolette is sticking to his announcement last week that Bobrovsky would be his Game 1 starter when the first-round series against the Buffalo Sabres starts.
"I stated my intentions a week ago and from this point on you won't get anything out of me," said Laviolette.
Contact Adam Kimelman at akimelman@nhl.com. Follow him on Twitter: @NHLAdamK