Flyers eager to drop the puck for Game 2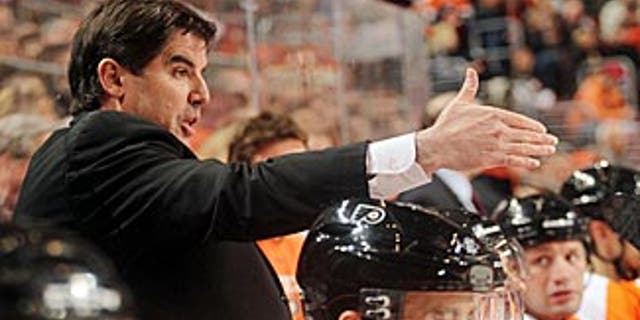 PHILADELPHIA -- At age 39 and with 101 games of Stanley Cup Playoff experience, Flyers veteran defenseman Sean O'Donnell has learned one very important lesson about the playoffs.
Having a short memory is a major component to surviving.
"We're anxious to get out there," he said following Monday's pre-game practice ahead of Game 2 tonight here at the Wells Fargo Center (7:30 p.m. ET, VERSUS, TSN, RDS). "I think that's the nice thing about the playoffs -- you're playing every other night. When you have a game that doesn't go your way or things you'd like to change about your performance, you don't have to wait long to redeem yourself. That's what playoff hockey is -- whether it's good or bad, you put that game behind you and move forward."
And the Flyers' effort in Game 1 certainly falls into the bad category. Philadelphia's two best defensive forwards, Blair Betts and Darroll Powe, and their top defensive pairing of Matt Carle and Chris Pronger each finished a minus-3; they had no players with positive plus/minus ratings, and only two who didn't finish with minuses; the seven goals allowed in Game 1 was the most the Flyers ever have given up in the opening game of a playoff series, and the most they've allowed in a home playoff game since the Washington Capitals scored seven against them in the 1988 Patrick Division Semifinals, on April 14, 1988.
"That was not the way we need to play in order to be successful, so there's lots of things that can change," coach Peter Laviolette said after Game 1. "Actually, everything's got to change, everything's got to improve. So we'll work on that."
They spent Sunday doing that, and some more on Monday, but they're treating today like a brand new day.
"I felt a lot better energy today," said center Danny Briere. "(Sunday) was not a fun day. We went through a lot of clips, a lot of stuff we didn't do too good. It wasn't a fun day. Today it seemed like there was a lot of energy. Guys are anxious to get back on the ice and show them we can play much better than we did in the first game."
Pronger OK -- Chris Pronger didn't play the final five minutes of Game 1, and while he practiced with the team Sunday, he was not on the ice for the team's pre-game skate Monday.
GM Paul Holmgren said through a text message that Pronger was OK, but coach Peter Laviolette made no mention of Pronger's availability during a quick press briefing following Monday's morning practice.
Pronger missed nearly seven weeks with a broken right hand, and the 19:45 he played in Game 1 against the Bruins was the most he's played in the three postseason games he's played in. However, he did not speak to the media after Game 1, reportedly due to a cold that caused him to lose his voice. There was also a report from CSNPhilly.com that Pronger's back was bothering him.
Based on Holmgren's message, it appears Pronger will be available for Game 2, but defensemen Danny Syvret and Matt Walker worked with the full group Monday morning. Syvret played in Games 6 and 7 against the Sabres as a precaution in case Pronger re-injured his hand.
Whether they have their All-Star defenseman or not, however, doesn't faze the rest of the team.
"Doesn't matter (if he plays or not)," said Briere. "We can't just rely on him. Obviously it's nice when he's in the lineup. He's a big piece of the puzzle. But we played a lot of games without him this year and we were successful. We can't sit back and hope that if he plays he's going to change everything. We all have a job to do and that's what we have to focus on."
Injury update -- Besides Pronger, the Flyers are dealing with two other injury issues to their forward group. Jeff Carter is day to day with a lower-body injury, and Andreas Nodl is day to day with an upper-body injury. Also, goalie Michael Leighton is day to day.
Carter hasn't played since Game 4 of the first round, due to what has been reported by multiple media outlets as a sprained knee ligament. Nodl hasn't played since Game 2 of the first round. He was seen skating last week by himself with an orange-tinted visor.
The players, however, don't have time to worry about who's out. The only concern is the healthy players playing better than they did in Game 1 against the Bruins.
"Every team deals with injuries," said O'Donnell. "That team has played without arguably their most offensive guy in Marc Savard all year. No one's feeling sorry for them. They're finding ways to get it done. Whatever happens, we'll find a way to get it done."
Contact Adam Kimelman at akimelman@nhl.com. Follow him on Twitter: @NHLAdamK