Flyers come up big on faceoffs, power play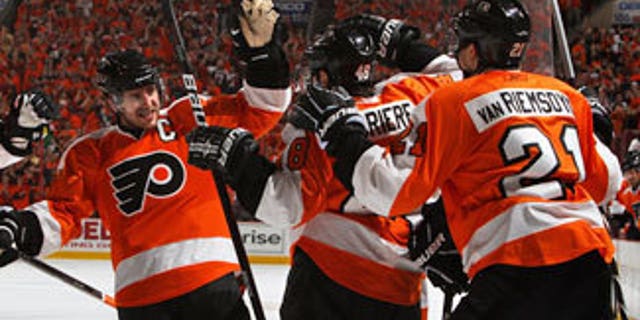 PHILADELPHIA -- Through the first six games of their Eastern Conference Quarterfinal series against the Buffalo Sabres, two of the areas the Philadelphia Flyers struggled in were faceoffs and the power play.
In Game 7 on Tuesday, with their season on the line, a pair of faceoff wins led to the Flyers' first two goals and their power play scored on its first two opportunities in their 5-2 victory against the Buffalo Sabres.
The Flyers won just 47.2 percent of faceoffs in the first six games, and even though they won just 34 of 71 in Game 7, it was two big ones that turned the tide of the game.
Late in the first period, Claude Giroux stepped into the circle to the left of Buffalo goalie Ryan Miller. Facing him was Paul Gaustad, the Sabres' best option on defensive-zone draws. Knowing what he was facing, Giroux tried to cheat, but was caught and tossed out of the circle. Danny Briere replaced him and it turned into a fortuitous move for the Flyers.
Briere beat Gaustad clean, drawing the puck between his skates and back to Braydon Coburn at the right point. Coburn's shot glanced off the glove of Sabres forward Mike Grier and got past Miller with 18.5 seconds left in the first period of what had been a scoreless game.
"It's one of those plays, sometimes it works, sometimes it doesn't," said Briere. "Most of the time it doesn't. I guess they were key, especially the one at the end of the first period. I thought that was a huge momentum swing. We had peppered Ryan Miller most of the first period. We didn't barely let them come into our zone. And it was still 0-0 at that point. So to get that little deflection, to see the puck go in, that was a huge relief and a huge momentum swing coming back into the room."
Early in the second period, the same situation arose, with Briere facing Gaustad in the circle to Miller's left. Again, Briere beat Gaustad, with the puck sliding to Giroux. He sent it back to Mike Richards, whose shot from the point found its way to Briere for an easy tap-in goal.
That came just five seconds into the Flyers' first power play of the game. Midway through the period they cashed in on their second chance, when James van Riemsdyk screened Miller and tipped Giroux's shot past him.
The Flyers had been just 3-for-31 with the extra man in the first six games of the series; they went 2-for-4 in Game 7.
"Talked about it a lot, worked on it a lot, watched a lot of video," said Richards. "It's nice to see it paid off. Same mentality as our 5-on-5 (play) -- just get pucks to the net as much as possible. We got some skilled players who sometimes try to make too many perfect plays, and tonight we just got some ugly goals."
It also helped to have defenseman Chris Pronger on the point. His entry into the series in Game 6 sparked a turnaround on the extra-man unit.
"We were due," said Pronger. "We got one and a half in Buffalo, Hartsie's (Scott Hartnell) tying goal was just after their penalty expired, so we'll count it as two last game and two tonight."
"He makes terrific plays," coach Peter Laviolette said of Pronger. "Whether they are big plays or little plays, sometimes you don't even notice them. Just his presence back there and his shot opens up other things. He looked really strong in all situations."
When it counted the most, the Flyers were strong in two situations where they had been weak.
Contact Adam Kimelman at akimelman@nhl.com.