Floyd Mayweather's uncle rips Conor McGregor, Ronda Rousey and Dana White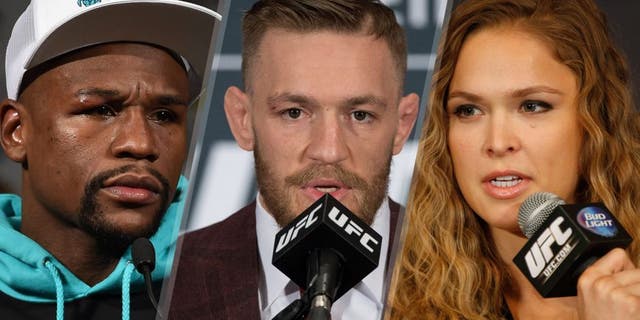 Floyd Mayweather's uncle, Jeff Mayweather, is tearing into the UFC for constantly using his nephew's name to promote fighters, and he's wondering who is next now that both Conor McGregor and Ronda Rousey have lost recently.
For the past few years, Mayweather has been embroiled in public commentary from McGregor, Rousey and UFC president Dana White on how the former pound-for-pound boxing king would fare against a top mixed martial artist.
Rousey jabbed at Mayweather for several years and McGregor managed to get twisted up with the boxer as well after a series of comments made regarding racism in combat sports.
Mayweather's uncle hasn't taken too kindly to the notion that McGregor, Rousey and White constantly use Floyd's name to promote themselves ahead of fights.
"It's one of those things where the UFC was building their brand and building their fighters up off of Floyd's name. First of all, it ain't never going to happen, so it's just talk, and the only way that you can make yourself seem like you are bigger than what you really are is to call out the best guy in his sport, who has actually proven to everyone what he can do," Mayweather told Fight Hype recently.
"They want to make it like Conor McGregor is so great because he went up and got his ass whooped. Wow! That's great? You went up and got your ass whooped. It would have been great if you went up and did something and you actually won; just like Floyd did in five different weight classes."
Mayweather's rant at McGregor continued while talking about his recent loss to Nate Diaz at UFC 196.
"If Conor McGregor would have (expletive) won, oh my God, he would have been the greatest thing since (expletive) ice cream. But since he lost, now they want to give him credit for going up; going up and getting his ass whooped," Mayweather said.
"You don't get no credit for that. You chose to do that. You accepted that man's challenge and talked plenty of (expletive) about him, then you got your ass whooped by him. You made fun of him teaching jiu-jitsu classes to children and then got choked the (expletive) out. You don't get no damn honor points for that (expletive)."
Mayweather then turned his attention to White and Rousey after they spoke for years about how she would do against the former boxing champion if they ever met in a fight.
While neither spoke about the possibility as if it was actually going to happen, Mayweather's uncle believes it was all done for the sake of promotion and attempting to boost their name value by saying she could beat Floyd in a fight.
"Everybody listening to Dana White talking that stupid (expletive) about Ronda Rousey beating up men and now they jump on Conor McGregor's bandwagon, they don't got no (expletive) wagon no more. That (expletive) is over with," Mayweather said. "They don't got nothing else to talk about. It shows that they need Floyd to promote their sport. They want to talk (expletive) about the man, but it just shows how much they truly need Floyd to promote their company.
"Floyd has never ever said that he wanted to fight one of them. He never said, 'I'll beat Ronday Rousey,' or 'I'll beat Conor McGregor.' Like I said, they had they little moment of fame. McGregor's lasted almost a year and Rousey's lasted about a year and a half. That (expletive) is over with now. They can shut the (expletive) up about that dumb (expletive). They can shut the (expletive) up about what a MMA fighter can do to Floyd Mayweather because ain't (expletive) going to happen to Floyd."
Funny enough outside of his work with boxers, Jeff Mayweather has actually worked with a slew of MMA fighters over the years including heavyweight Roy Nelson.
In the end, Mayweather isn't ripping the sport of MMA but instead the athletes who insist on building their names off of mentioning his nephew.
He hopes now that McGregor and Rousey have both suffered losses, that will put an end to the UFC phenomenon of using Floyd's name to hype up promotion.
"I look at it this way, they ain't got nobody else that can (expletive) mention Floyd's name. Who else they going to get to use Floyd's name, damn Jon Jones or somebody else way bigger than him?" Mayweather said.
"Somebody he can't never fight any damn way. Anybody that's close to Floyd's weight, they're done."