Floyd Mayweather Sr. fires a shot at Conor McGregor: 'I'll beat your ass'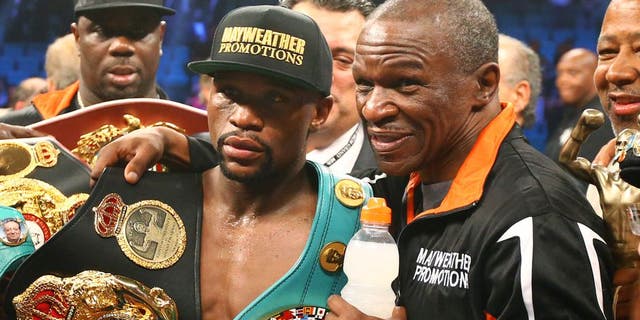 If Conor McGregor doesn't get the chance to fight Floyd Mayweather later this year it sounds like his father might be a willing participant instead.
Floyd Mayweather Sr., who was an accomplished boxer in his own right before training several notable champions over the years including his son as well as Oscar De La Hoya, Ricky Hatton and several others, took aim at McGregor when discussing the proposed super fight.
Rather than facing Floyd Jr., Mayweather Sr. suggested that he could still take McGregor in a boxing match despite being nearly 40 years older than the UFC lightweight champion.
He aint nothing but talk! I told them people on the TV already, forget about Floyd. Lets throw Floyd to the side. Here I am, Im a 64-year-old man and Ill beat your ass," Mayweather Sr. told Fight Hype recently.
"Ill beat the [expletive] out of McGregor! Anytime he wants it, lets go.
Mayweather Sr. clearly doesn't like McGregor's chances to give Floyd a run for his money, much less have a realistic shot of handing the retired boxing champion his first professional loss in 50 fights.
While Mayweather Sr. does concede that the hefty paycheck McGregor is likely to receive for the proposed fight "would definitely bring big things" to him, he's still not sold the UFC lightweight champion actually wants to do it.
He dont want that fight. Floyds gonna turn him upside down, Mayweather Sr. said. That be like you and Floyd in the ring! He looks bad in the ring. Thats a done deal right there.
"Theyve already showed the best that hes got."
Obviously, McGregor would be fighting an uphill battle to beat Mayweather, who was a multi-time champion in several different weight divisions during his boxing career.
Meanwhile, McGregor has never competed in a professional boxing match and would enter the fight with Mayweather as a massive underdog.
All those factors combined lead Mayweather Sr. to believe the mismatch on paper between his son and McGregor would absolutely translate into the ring where it would be a lopsided fight from start to finish.
Im telling you right now, he can do all the stuff he want to do but this guy dont know nothing about how to get your body right and the amount of time and everything youve got to do," Mayweather Sr. said. "He dont know nothing about that!