Floyd Mayweather Jr. Says He Will Fight Miguel Cotto on May 5 in Vegas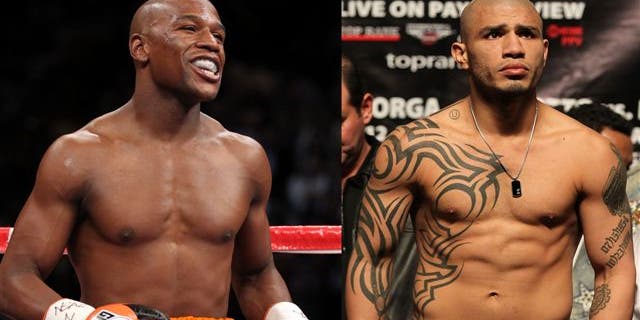 WBC Welterweight champion Floyd Mayweather Jr.says he has a deal in place to fight WBA junior middleweight titlist Miguel Cotto on May 5 at the MGM Grand in Las Vegas.
Mayweather (42-0, 26 KOS) made the announcement during a licensing hearing in front of the Nevada State Athletic Commission panel on Wednesday in Vegas, according to an ESPN report. The fighter was facing questioning over his most recent criminal case in which he made a plea deal on.
Boxing Great Joe Frazier Remembered
According to BoxingScene.com, during the hearing Mayweather was asked -"Do you have an opponent for May 5th? Are you ready to revel that opponent?"
Mayweather responded, "Yes I do [have an opponent]...Miguel Cotto."
The boxing world has been waiting for a Mayweather vs Manny Pacquiao fight.
Mayweather, who goes by the nickname "Money," has earned upward of $20 million for each of his two most recent fights, one against Victor Ortiz, which won him the WBC welterweight belt, and the other against Shane Mosley.
Mayweather is generally recognized as one of the two best boxers in the world, sharing that spotlight with Pacquiao, a champion fighter from the Philippines. The two men have never fought in the ring, but have a defamation lawsuit pending in Las Vegas federal court stemming from statements by Mayweather that he suspected Pacquiao was taking performance-enhancing drugs.
Victor Ortiz Trying to Become the Next Boxing Champion
Cotto (37-2, 30 KOS) was widely expected to face Pacquiao in a rematch of their November 14, 2009 bout in which Pacquiao defeated the Puerto Rican native. Pacquiao intends to fight June 9th putting off any hopes for a Pacquiao-Cotto II fight off the table until the fall.
A judge agreed earlier this month to postpone Mayweather's 90-day jail sentence in a Las Vegas domestic violence case to allow the undefeated boxer to face what was at the time an unnamed opponent on May 5th.
Contains some material from the Associated Press.
Follow us on twitter.com/foxnewslatino
Like us at facebook.com/foxnewslatino