Floyd Mayweather in a reflective, pugnacious mood days before Manny Pacquiao fight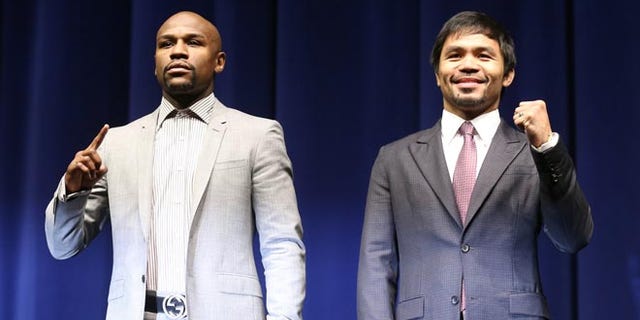 NEWYou can now listen to Fox News articles!
Floyd Mayweather is a complicated guy.
On Wednesday night in a conference call with members of the press, he was in both a reflective and pugnacious mood as he reaffirmed his belief that he is the greatest fighter of all time — and certainly greater than the man who called himself "The Greatest of All Time," Muhammad Ali.
"I take my hat off and acknowledge the past champions," said the 11-time world champion who is taking on Manny Pacquiao on May 2, in what will be the richest fight in history, at the MGM Grand in Las Vegas.
"Ali is a legend," Mayweather said, "but I feel like I have given this sport my whole life and have done as much in boxing as Ali did."
The 38-year-old Mayweather added, "Ali, he fought in one weight class. No disrespect but he did it in one division."
"There were some other fights he lost and he's still known as 'The Greatest' because that's what he put out there. It is what it is. He called himself 'The Greatest' and I call myself 'TBE'—'The Best Ever.' I'm pretty sure I'll get criticized for what I said, but I couldn't care less."
With tickets at the 16,500 seat MGM-Grand going on sale on Thursday — and only a mere 1,000 of those expected to go on sale to the public — Mayweather was quick to deflect any rumors that he or his people were responsible for that.
"I don't try to focus on tickets," he added. "I try to worry about the guy in front of me."
Maybe that's because Mayweather and the guy in front of him the night of May 2, Pacquiao, are expected to make over $100 million each for title fight, but he did recall the early part of his career when he attended bouts in the same venue.
"I would go to the MGM-Grand when Mike Tyson was fighting, and I thought the place would never be as packed again as it was on those nights. But that was back in 1996, and I kept believing," Mayweather said. "It took the right fights, the right team, and we made it happen."
As for Pacquiao, Mayweather considers the Filipino icon just another opponent, but he did allow that "he must have done something right to get to this point ... but I'm not going crazy. This is just a fight for me. I know it's the biggest boxing fight in history, but I can't look at it like that. I can't put any extra pressure on myself."
The fact that people have been baying for this match-up for the last five years does mean something to him. "He's one of the best and last good fighters of this era," Mayweather said of his opponent, "and I'm glad this fight is happening."
One person Mayweather wanted to give credit to, outside of his usual cast of promoters and advisers was Frank Brown, a native of Grand Rapids, Mich., who helped future champion achieve some of his dreams and who lives in an assisted-living facility and suffers from memory loss and dementia.
"He's known me since age 3," Mayweather recalled. "He would always support me. He always took me to church, he would drive anywhere, to come and support me when I fought. He would say prayers with me."
He added, "He eventually lost his memory, and that really hurts, but I love him so much and I think about him all the time."