Floyd Mayweather announces August fight against Conor McGregor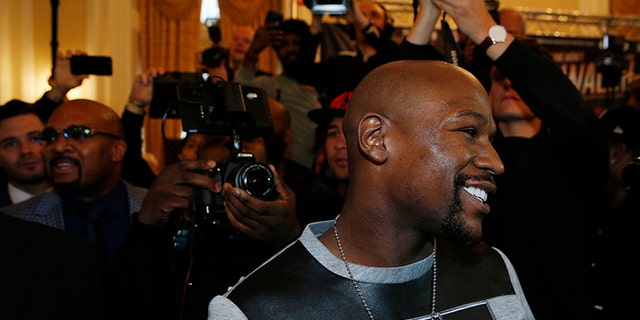 NEWYou can now listen to Fox News articles!
Boxer Floyd Mayweather announced an August 26 fight against UFC star Conor McGregor on Instagram on Wednesday.
Mayweather, who retired following a September 2015 fight, will fight McGregor in a boxing match at the T-Mobile Arena in Las Vegas, according to ESPN.
UFC president Dana White said the fight would be at 154 pounds with 10-ounce gloves. It will be broadcast by Showtime Pay-Per-View.
McGregor is 21-3 as a UFC fighter and is considered one of the best MMA fighters in the world. He will be making his professional boxing debut against Mayweather. Mayweather is unbeaten in 49 fights and is considered a massive favorite to defeat McGregor.
Mayweather, 40, is recognized as one of the best fighters in the history of boxing.
Mayweather's 2015 fight against Manny Pacquiao generated record revenue for both participants with both boxers making nine figures. The McGregor fight is expected to rival those amounts.
The Associated Press contributed to this report.