Florida State's Jimbo Fisher: Jameis Winston has committed no crime, will not miss any games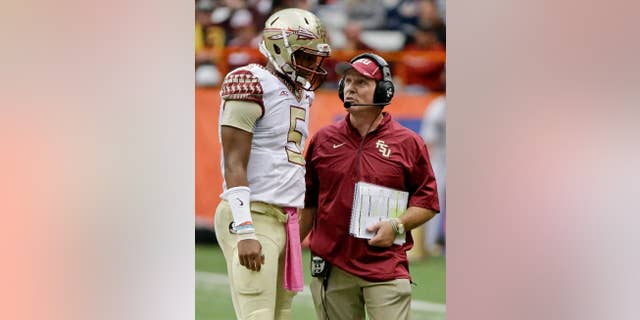 TALLAHASSEE, Fla. – Coach Jimbo Fisher says Florida State's Jameis Winston has committed no crime and is adamant the quarterback will not miss any games this season due to an ongoing sexual assault investigation.
Fisher said Monday recent reports about the investigation haven't revealed any new facts.
Fisher says, "The facts are the facts. .. There is no victim because there was no crime."
Florida State announced last week it will use an independent official in the student code of conduct hearing. No hearing date has been set.
A female student said Winston sexually assaulted her in December 2012. Florida State Attorney Willie Meggs declined to press charges against Winston last December due to inconsistencies and flaws in the evidence.
Florida State fell to No. 2 after an 18-point win against Syracuse Saturday.