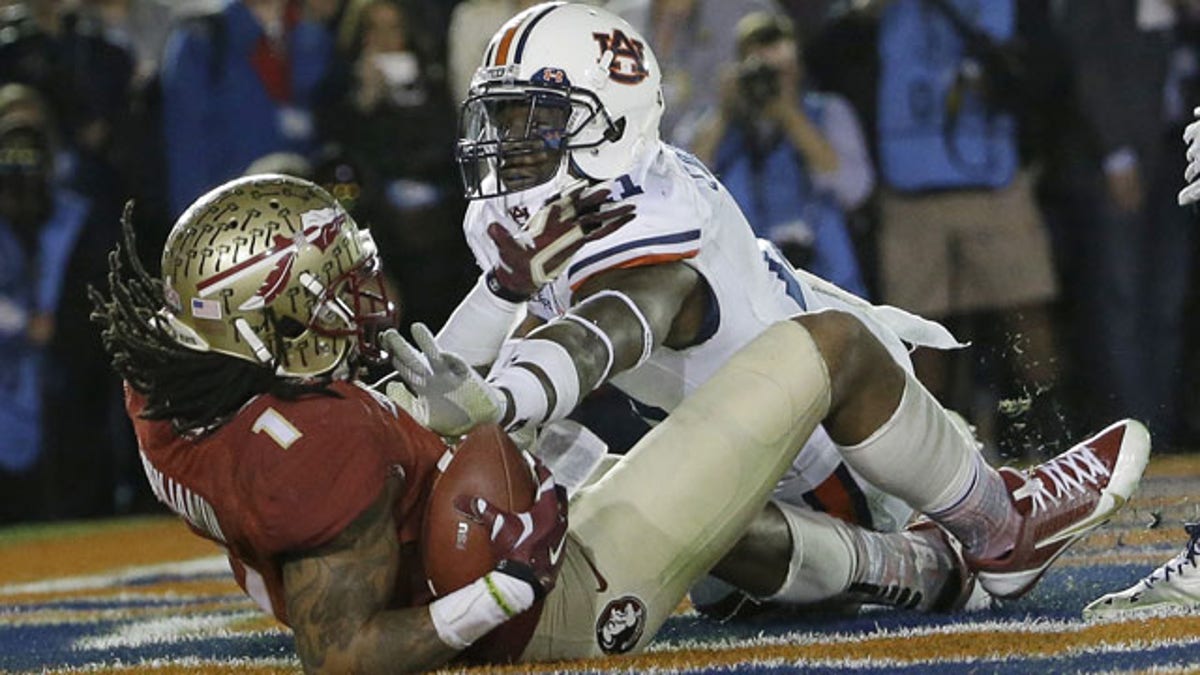 Jameis Winston threw a 2-yard touchdown pass to Kelvin Benjamin with 13 seconds to play and No. 1 Florida State rallied from an 18-point first-half deficit to defeat No. 2 Auburn 34-31 to win the final BCS championship game Monday night at the Rose Bowl in Pasadena, Calif.
Winston, the Heisman Trophy winner, drove Florida State 75 yards in 7 plays after Tre Mason had given Auburn a 31-27 lead with a 37-yard run with 1:19 to play. Mason's run, in turn, had come after Kermit Whitfield returned a kickoff 100 yards to put the Seminoles ahead, 27-24 with 4:31 to play.
"I said this from Day 1 in spring ball. These kids are special," Seminoles coach Jimbo Fisher said after the game. "This group never faltered. They wanted to be elite. They wanted to go to the top and there's so much character in this group."
It was all Auburn in the first half, as Mason caught a 12-yard TD screen pass in the first quarter, and Melvin Ray ran alone down the middle with a 50-yard touchdown catch in the second quarter as the underdog Tigers jumped to a stunning 21-3 lead late in the second quarter. It was the first time Florida State had trailed in a game since September 28.
After Winston's fumble set up Auburn's third touchdown, a 4-yard run by Nick Marshall, Devonta Freeman cut Florida State's deficit to 21-10 with a 3-yard scoring run with 1:28 left in the half as the Seminoles finished off an 11-play, 66-yard drive prolonged by a fake punt.
After a Roberto Aguayo field goal that accounted for the only points of the third quarter, the game exploded into life in the final 15 minutes. First, Chad Abram took a swing pass from Winston into the end zone from 11 yards out to make the score 21-19. An unsportsmanlike conduct penalty prevented Florida State from attempting a game-tying two-point conversion, but Aguayo's extra point made it 21-20.
Auburn responded with a 22-yard field goal by Parkey, but Whitfield ran back the ensuing kickoff for the go-ahead score to set up the furious finish.
As usual, Winston was the offensive star for Florida State, completing 20 of his 35 passes for 237 yards and two touchdowns after completing just 6 of his 16 passes for 62 yards in the first half. Mason, who appeared to have won the title for Auburn with his late run, racked up 195 rushing yards on 34 carries.
Aguayo made a 35-yard field goal on the opening drive for the Seminoles, but the lead was short-lived as Tigers capitalized on a short field for Mason's catch with 3:07 left in the first quarter.
Auburn then moved 85 yards on its first drive of the second quarter with a TD catch for Ray, the sophomore and minor league baseball player from Tallahassee who had just four receptions in the regular season.
Florida State's Jalen Ramsey failed to pick up Ray all alone down the middle. Ray then juked a defender near the goal line and scored as the Tigers' fans rocked the Rose Bowl stands with cheers.
Auburn's Angelo Blackson then swatted the ball out of Winston's hand on a run moments after the Tigers missed a field goal, and Marshall finished the drive by turning the corner on Florida State's defense for a score.
A successful fake punt finally sparked the Seminoles moments later. Winston made a 21-yard run complete with a vicious stiff-arm to Auburn's Kris Frost, and Freeman scored on the next play.
The Associated Press contributed to this report.