Florida Panthers hire Sharks assistant Bob Boughner as head coach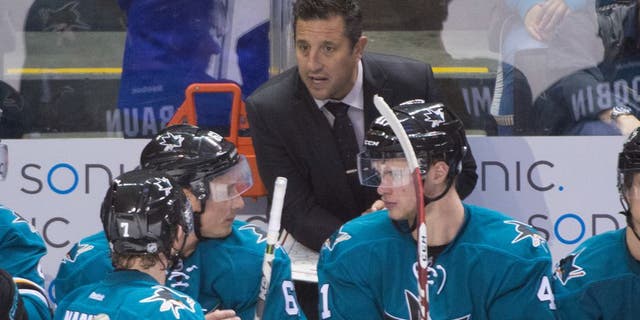 NEWYou can now listen to Fox News articles!
SUNRISE, Fla. (AP) -- Bob Boughner believes that he's ready to finally be an NHL head coach.
The Florida Panthers agree.
Boughner is Florida's new coach, his hiring getting announced by the team Monday morning. The former NHL defenseman becomes the 15th coach in the franchise's 24-year history, and its fifth since 2011.
"He sees the game in a modern way and is eager to work with our young players," Panthers general manager Dale Tallon said. "During the interview process, Bob blew us away with his preparation, his passion, knowledge and dedication to the game. We believe that he is the right leader to get our team back to competing towards our goal of winning the Stanley Cup."
Boughner spent the last two seasons as an assistant coach in San Jose under former Panthers coach Peter DeBoer.
Boughner is the fifth coach to get hired since the regular season ended, a list that includes the Vegas Golden Knights choosing Gerard Gallant as their first coach. Gallant was fired by the Panthers early this past season, getting replaced by then-general manager Tom Rowe. But Florida never found the same form it had a year ago on the way to the Atlantic Division title, and missed the playoffs by 14 points.
That led to the Panthers going back to what has worked in the past: Tallon squarely in charge again as general manager, and his first major move of the offseason is bringing in a 46-year-old -- he shared the ice with Panthers free agent forward Jaromir Jagr both as a teammate and an opponent -- to take over a team that believes it should be right back in the playoff mix next spring.
Boughner's only previous experience as a head coach came in the Ontario Hockey League with the Windsor Spitfires, over two stints spanning eight seasons. He led Windsor to a pair of Memorial Cups and he was twice selected as the OHL's coach of the year. He also spent the 2010-11 season as an NHL assistant in Columbus.
He now takes over a team with a young core led by one of Windsor's favorite natives -- Panthers defenseman Aaron Ekblad, a 21-year-old who has already been an All-Star and is one of the biggest keys for Florida's hopes over the next few seasons.
Boughner's hiring follows a formula that the Panthers have used quite often in recent years: Bring in a coach who has never been in charge of an NHL team. Of the Panthers' last six coaches, five -- DeBoer, Kevin Dineen, Peter Horachek, Rowe and now Boughner -- were not previously NHL coaches before getting the chance to take the reins in Florida.
"I'm glad I did what I did," Boughner told WindsorEssexTV in a Facebook Live event last month. "This was my third full year on the bench, an NHL bench. Looking back at the time when I won a couple (Memorial) Cups, I thought I was ready to go to the NHL. Well, it's not as easy as you think."
For now, Boughner is one of only two true first-time coaches in the NHL. Vancouver's Travis Green was hired in April, and he's never before coached in any league higher than the AHL.
Boughner played in 630 NHL games with Colorado, Carolina, Calgary, Pittsburgh, Nashville and Buffalo. He also played in the Panthers' organization, though only in the minors and never actually appeared with Florida.
"I'm ready," Boughner said. "I'm definitely ready."