Florida Mom Charged With Killing Children Appears in Court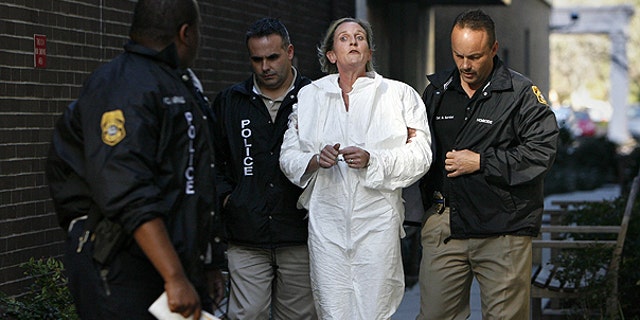 NEWYou can now listen to Fox News articles!
A Florida woman accused of killing her teenage daughter and son held a tissue and cried as she made her first appearance in court on Monday.
Julie Powers Schenecker, 50, of Tampa, Fla., is accused of gunning down her children, ages 13 and 16, in a violent rampage on Thursday.
Authorities say Schenecker shot her son, Beau, twice in the head in the family car because he was "talking back" as she drove him to soccer practice. She then shot 16-year-old Calyx in the face while she was doing her homework inside the family's upscale home, police say.
Judge Walter Heinrich ordered Schenecker held without bail during the Monday morning hearing. Two female deputies held Schenecker by the arms during the video proceeding. Her court-appointed attorney did not make a statement.
Investigators believe the teens "never saw it coming," police spokeswoman Laura McElroy said.
Police went to the family's home last week after a grandmother in Texas became concerned, MyFoxTampaBay.com reports. When there was no answer at the door, investigators went around back and found Schenecker covered in blood.
Authorities alleged that both children were killed with a .38-caliber pistol. The arrest affidavit said the weapon was purchased five days earlier.
"Caylx was a very sweet girl, very soft-spoken, always very quiet and just a real sweetheart," neighbor Seema Jain told MyFoxTampaBay.com.
Schenecker's husband, Parker Schenecker, is a career Army officer attached to U.S. Central Command in Tampa. He was working in the Middle East when the shootings happened.
In 2008, the family moved to Tampa and bought a $448,000 home in a quiet, upscale suburban neighborhood.
Neighbor Charanun Soodjinda said the Scheneckers "fit right in" when they arrived. The two children often played in the cul-de-sac with other neighborhood kids, and Julie Schenecker seemed to be at home a lot.
"They seemed like a nice family," said Soodjinda, 38. "I never thought this would happen. How could you do that to your children?"
Before Friday's arrest, Schenecker had no criminal record in Florida. On Nov. 8, 2010, she was involved in a car crash in Tampa, according to records from the Florida Highway Patrol, and cited for careless driving.
The crash caused bodily injury and $26,500 of property damage, records show, but it does not explain who was injured or what property was damaged. Schenecker paid a $151 fine and attended traffic school, the report said
Police said Monday that Schenecker showed signs of drug impairment after the crash. A newly released Florida Highway Patrol report said Schenecker had dilated pupils with no reaction to light and "mush-mouthed speech" after she hit a vehicle towing a trailer.
But officers didn't do a field sobriety test because Schenecker was taken to the hospital. When officers went to the hospital to obtain a blood sample, she had already checked out, according to the report.
Click to read more about the mom accused of killing her children at MyFoxTampaBay.com
The Associated Press contributed to this report
Grief counselors at victims' schools: MyFoxTAMPABAY.com