Florida High School Baseball Team Cuts Legless Player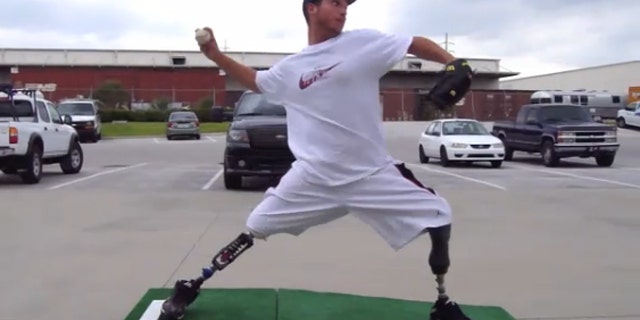 A Florida high school baseball team's decision to cut a double-amputee player from the squad had critics crying foul.
Pitcher Anthony Burruto -- who has prosthetic legs, can throw an 80-mph fastball and was featured on the cover of ESPN the Magazine -- was cut after he tried out for Dr. Phillips High School varsity team.
Coach Mike Bradley's main concern about Burroto was him trying to field bunts off the pitcher's mound, according to the Orlando Sentinel.
"He's not looking at him as an athlete. He was looking at him like he's a disabled person," Anthony's mom, Diane Burroto, told the paper.
Dennis Rasmussen, who pitched in the majors for 12 seasons, said simply, "This decision was wrong."
"You took away the hopes and dreams that Anthony's been hanging onto," Rasmussen, a friend of Burruto's family, told the Orlando Sentinel. "He crushed a young man with no apparent reason."
But Principal Gene Trochinski stands by the coach's decision.
"I think the coaches made a determination of who could contribute to the team this year and not that Anthony couldn't, but other kids could at a higher level," he told MyFoxOrlando.com.
Anthony had his legs amputated as a baby because he was born without a shinbone in his left leg and without a fibula in his right one.
Despite the setback, he doesn't make any excuses for being cut.
"I want to earn my position on the team. I want him to say I'm good enough to play," he told the paper.
Click here for more about the double-amputee baseball player from MyFoxOrlando.com.