Florida has ample motivation for SEC East showdown at Missouri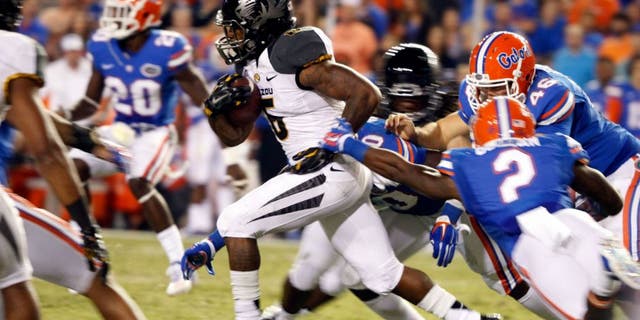 NEWYou can now listen to Fox News articles!
GAINESVILLE, Fla. -- If you were at Ben Hill Griffin Stadium that night, you remember the gloom and doom that spread throughout the evening.
It started with a gut-punch on the opening kickoff when Missouri's Marcus Murphy raced 96 yards for a touchdown. Eleven seconds into the game and the Gators already trailed on homecoming.
The night only got worse from there for the Gators in a 42-13 loss.
Missouri led 20-0 at halftime and in the second half the game took on a surreal tone. Murphy returned a punt 82 yards for a score early in the second half to put the Tigers up 28-0.
Less than six minutes later Tigers defensive lineman Markus Golden returned a fumble 21 yards for a touchdown. Finally, 88 seconds after Golden scored, Missouri linebacker Darvin Ruise intercepted Jeff Driskel's pass and rumbled 46 yards for a score and 42-0 Tigers lead.
The third quarter still had almost six minutes left as stunned fans headed for the exits.
A year later, Gators who played in the game still use a common adjective when asked to recall what they remember.
"Embarrassing,'' safety Marcus Maye said. "It was just a downer for everybody."
The 29-point loss catapulted Florida's struggles under former head coach Will Muschamp into the national spotlight and essentially started the countdown clock on his departure.
"That was probably the worst I've ever felt,'' Florida defensive back Brian Poole said.
Fast forward a year, and it's the Gators (5-0, 3-0) who will be Missouri's homecoming guest on Saturday at Memorial Stadium in a key SEC East showdown.
The two-time SEC East champion Tigers have beaten the Gators handily the past two seasons, including a 36-17 victory two years ago at Memorial Stadium.
While Missouri (4-1, 2-1), in its fourth season in the SEC, is once again a contender for the division title, the mood around the Gators couldn't be more different than last October when they walked off Florida Field humbled by the Tigers.
Jim McElwain became the first Florida coach since Steve Spurrier in 1990 to open his inaugural season 5-0 when the Gators upset No. 3-ranked Ole Miss at home last week.
The 38-10 victory sent Florida soaring from 25th in the national rankings to No. 11 in the AP Top 25, Florida's highest standing in the poll this late in the season since 2012. They face a Missouri team coming off a 24-10 win over South Carolina with a true freshman starting quarterback.
Drew Lock became the first true freshman quarterback to start for Missouri in 20 years when he replaced the suspended Maty Mauck last week. He completed 21 of 28 passes for 136 yards and two touchdowns."You see the confidence they have in him,'' McElwain said. "They're doing the things that he is obviously successful at."
The Gators sit alone atop the SEC East and hope to stay there with a victory.
While McElwain wasn't around for last season's loss, he can sense this one means something to the Gators beyond their current status. Same goes for Missouri.
"Based on history, I'm sure that they've got pretty good confidence that they will put it on the Gators,'' McElwain said. "It's one of those deals where I'm sure based on that history, they felt pretty good about us being at homecoming."
Missouri has won six consecutive home games and the campus is pumped for a rare night game at Memorial Stadium. The Tigers did not have a night game last season.
"We've had some great wins in that stadium during the day,'' Tigers head coach Gary Pinkel said Wednesday. "I just think the night atmosphere, our students feel it and are part of it. It's a pretty good environment."
In Florida's only other road game this season, the Gators defeated Kentucky 14-9 under the lights at Commonwealth Stadium. In the two games since, redshirt freshman quarterback Will Grier (554 yards passing, six touchdowns) has asserted himself to provide the offense with stability at a position that has lacked it recently.
After practice Wednesday, McElwain said the team has responded well since the stunning victory over the Rebels.
"When there is a sense of urgency and a sense of focus from the meeting room to the practice field, at least you know comfortably that your guys are going to go compete,'' he said. "That's what we're going to try to do."
The Gators offered no competition for the Tigers last season. They want to change that from the start on Saturday.
"Those guys are the champs,'' senior linebacker Antonio Morrison said. "We're trying to knock them off."