Flip the script: Brad Keselowski interviews Ryan Blaney in Victory Lane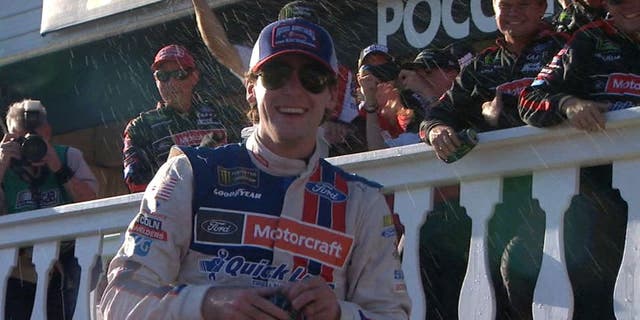 NEWYou can now listen to Fox News articles!
One of the coolest the coolest things about Ryan Blaneys first career Monster Energy NASCAR Cup Series win occurred in Victory Lane at Pocono Raceway after he arrived there in the iconic No. 21 Wood Brothers Racing Ford.
On Saturday, Blaney was one of eight drivers who served as the broadcast crew in FOXs historic drivers-only broadcast of the NASCAR XFINITY Series race. Through a random draw, Blaney was selected to be the pit reporter who covered Victory Lane.
Team Penskes Brad Keselowski won the XFINITY race, and it was Blaneys job to interview him, which he did.
Penske and the Wood Brothers have an alliance, so Keselowski and Blaney are quasi-teammates.
Well, when Blaney won the Pocono 400 on Sunday, Keselowski rushed over to Victory Lane to congratulate him. When Keselowski got there, FOXs Jamie Little gave him her headset and mic, and in a moment of spontaneous and unrehearsed improvisation, Keselowski served as the Victory Lane reporter and interviewed Blaney.
The result was TV magic.
Check out the last lap of Keselowski's Saturday XFINITY win, followed by Blaney's interview of Keselowski in Victory Lane, in the video below.