Flashback: Reggie Jackson goes back to back to back in World Series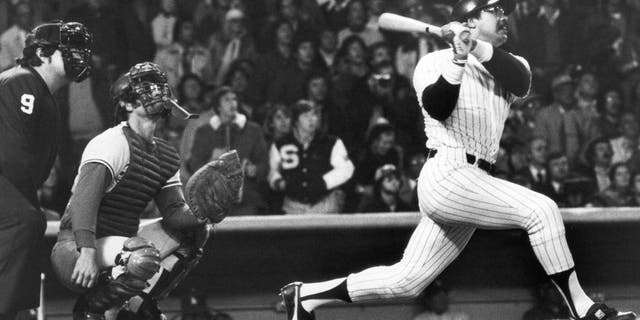 NEWYou can now listen to Fox News articles!
REG-GIE! REG-GIE! REG-GIE!
Those chants were loud and clear when New York Yankees right fielder Reggie Jackson became the second player to homer three times in one World Series game.
On Oct. 18, 1977, Jackson went deep in his three consecutive at-bats in the Game 6 win that brought the Bronx Bombers their 21st World Series championship.
Jackson went deep in the bottom of the fourth inning, the fifth inning and the eighth inning to finish 3-for-3 with five RBI. His first at-bat? He walked --€" a strategy the Los Angeles Dodgers would have been wise to use throughout that game.
Your browser does not support iframes.
Not surprisingly, Jackson won MVP honors in the 1977 World Series, finishing with a .450 batting average, five homers and eight RBI.
Babe Ruth was the first player to homer thrice in a World Series game in 1926, and the feat later was accomplished by Albert Pujols in 2011 and Pablo Sandoval in 2012.
Jackson finished his 21-season major-league career in 1987 with 563 homers, which still ranks 13th on the all-time list. He was a first-ballot Hall of Famer in 1993.