Flames fly to fifth, but challenge awaits in Chicago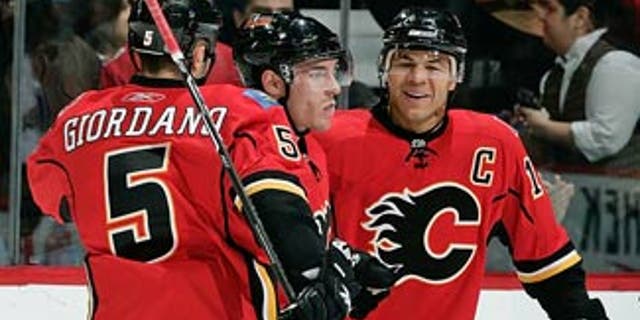 With 40 days left in the regular season, the playoff races in each conference simply are on fire. Every game has added significance, with points at a premium, as teams jockey for positioning. NHL.com is here to give you a Down the Stretch daily that will highlight what you need to know about that night's games.
Here is the installment for Wednesday, March 2:
Windy City Showdown: The words playoff implications will be all the rage tonight at United Center in Chicago on Wednesday. The Flames' 6-0 win against St. Louis on Tuesday gave them 75 points and lifted them into fifth in the Western Conference, dropping the idle Blackhawks to seventh. Chicago has 74 points, has won five in a row and looks to be playing its best hockey of the season.
The Blackhawks get the immediate advantage here because they haven't played since Monday and are at home, where they're 19-14-0 this season. Meanwhile, the Flames arrived in Chicago not long after finishing in St. Louis.
Chicago seems to have found some semblance of balance with its line combinations, including an All-Star top-line of Jonathan Toews between Patrick Kane and Patrick Sharp. Toews was the NHL's Player of the Month for February and he has 4 goals and 7 assists in his last six games. Sharp has 9 points in the last six games.
Calgary's top line is clicking in a similar fashion. Brendan Morrison, Jarome Iginla and Alex Tanguay combined for 9 points in Tuesday's whitewashing of the Blues. Goalie Miikka Kiprusoff stopped 52 shots for back-to-back shutouts in the home-and-home series sweep against St. Louis. He's started 17 consecutive games and it's a good bet he runs that streak to 18 Wednesday.
Stayin' Alive: The Maple Leafs are 10th in the Eastern Conference with 63 points, six behind the eighth-place Hurricanes and four behind No. 9 Buffalo, but they're not going away. Toronto, which hosts Pittsburgh on Wednesday (7 p.m. ET, VERSUS, TSN, RIS), is 4-0-3 in its past seven games, and even survived a recent scare to rookie goalie James Reimer. Reimer was kicked in the head Sunday and had to take himself out with a 2-0 lead against Atlanta. Jean-Sebastien Giguere came in for his first action since Feb. 16, gave up two goals before the end of regulation and then the overtime winner to Ron Hainsey. Reimer thought he suffered a concussion, but said Tuesday it was just whiplash and he will start against Pittsburgh.
Reimer 10-4-3 with a 2.31 goals-against average and .929 save percentage, and he hasn't lost in regulation since Feb. 5. Despite having a healthy Giguere and Jonas Gustavsson back from his AHL conditioning stint, Leafs coach Ron Wilson said the job is Reimer's to lose. If he does, chances are the Leafs won't be in the race for too much longer.
Keeping up with the pack: This might sound like we're pressing too hard for drama, but we think Minnesota has to win on Long Island on Wednesday and Anaheim has to beat Detroit at Honda Center in order for each team to stay in the Western Conference playoff race.
Are they truly must-win games? No, that doesn't happen until you're in a win-or-else scenario, but we have a reason to be so dramatic.
The Wild are coming a 4-2 loss in Chicago and the last thing it needs at this point is a prolonged losing streak. And yes, in the Western Conference right now a two-game losing streak is too long. Minnesota enters the day 10th with 72 points. That leaves them four points away from fourth, but only three away from 12th.
The Ducks are coming off a 3-2 win against Colorado on Sunday, which snapped a five-game winless streak (0-4-1). They have to build on Sunday's victory, not fall off yet another mini-cliff. Anaheim is in the middle of a seven-game homestand that has started with three points in three games. Not good enough for a team that started the day 11th with 71 points.
Anaheim, by the way, is 0-3-0 with a pair of 4-0 washouts against the Red Wings this season.
Follow Dan Rosen on Twitter at: @drosennhl