Five things we learned during Sunday's Chase race at Kansas Speedway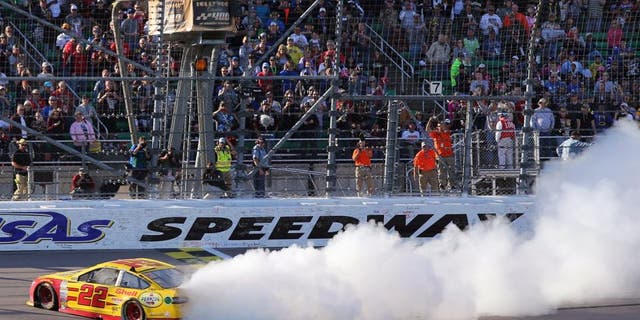 NEWYou can now listen to Fox News articles!
After what frankly had been a lackluster start to the Chase for the NASCAR Sprint Cup, the intensity went white-hot during Sunday's Hollywood Casino 400 at Kansas Speedway.
On Lap 263 of the scheduled 267-lap race, leader Matt Kenseth got held up by a couple of backmarkers, and Joey Logano made contact with him going into Turn 1, sending Kenseth spinning his way to a 14th-place finish. Afterwards, Logano said he'd been blocked twice by Kenseth and had a much faster car, while Kenseth said Logano lifted his rear wheels off the ground, causing the spin.
Two hard racers, racing for a championship. Both entered the corner. One emerged with a victory, the other, his championship hopes all but crushed. Yeah, the boys had at it.
Here are five things we learned Sunday at Kansas Speedway.
5. Jeff Gordon might be this year's Ryan Newman -- Once again, Jeff Gordon had all sorts of problems and once again, he pulled out a top-10 finish. After qualifying sixth, Gordon quickly fell back to 15th and then later dropped all the way to 25th after having to make a second pit stop for loose lugnuts.
Somehow, though, Gordon rallied back to finish 10th. He just might work his way all the way to Homestead without a victory like Ryan Newman did last year.
4. Mistakes hurt more than speed helps -- In NASCAR, one driver wins every week and 42 lose. That means mistakes are even more critical than in stick-and-ball sports, where half the teams win and half lose each game. Sunday at Kansas Speedway, Martin Truex Jr. (15th) and Kevin Harvick (16th) saw potential top-five finishes wiped out by bad pit stops.
And Dale Earnhardt Jr. had to fight hard just to finish 21st after having to make an extra pit stop under green for a loose wheel. In a Chase broken into three-race rounds, those are the kinds of errors that can take you out of title contention in a hurry.
3. Dale Earnhardt Jr. and Matt Kenseth need to win -- The Hollywood 400 was the second of three races in the Contender Round of the Chase. After next week's race at Talladega Superspeedway, the bottom four of the 12 drivers will be eliminated from title contention. Right now, those four outside the top eight are Kyle Busch (-6 points), Ryan Newman (-8), Earnhardt (-31) and Kenseth (-35).
If Busch and/or Newman finish in the top five at Talladega and some of those ahead of them have problems -- a very realistic scenario -- they could move on to the next round on points. But after disappointing finishes at Kansas on Sunday, Earnhardt and Kenseth absolutely must win at Talladega or face elimination.
2. Logano is the only safe driver at this point -- With his second victory in this round of the Chase Logano is in great shape. Pretty much no one else is. Last Sunday's win at Charlotte Motor Speedway locked Logano into the next round of the Chase, so he's all set.
But behind him, it's wide open. Denny Hamlin, for example, is second in points, but he's only 18 points ahead of ninth-place Kyle Busch. If there is one big pile-up at Talladega -- a virtual certainty -- you'll likely see a couple of top drivers knocked out of the Chase.
1. Finally, a Game 7 moment -- Let's be honest: The last two races of the Chase before Kansas were pretty much snoozers. Kevin Harvick led 355 of 400 laps at Dover, while Logano led 227 of 334 at Charlotte.
Fortunately, Kansas produced high drama. Four drivers led at least 20 laps. Drivers battled furiously for the lead and actually passed each other under green. Strategy played a big factor.
And the Logano-Kenseth battle in the closing laps truly was a championship-caliber fight between the two drivers who have won the most races this season. You can't ask for much more than that.
Of course, next weekend, the battle shifts to Talladega and an elimination race. The tension is only going to get heightened over the final five weeks of the season. And if you're a race fan, that's a very good thing, indeed