Five reasons why Matt Kenseth will win the 2015 Sprint Cup title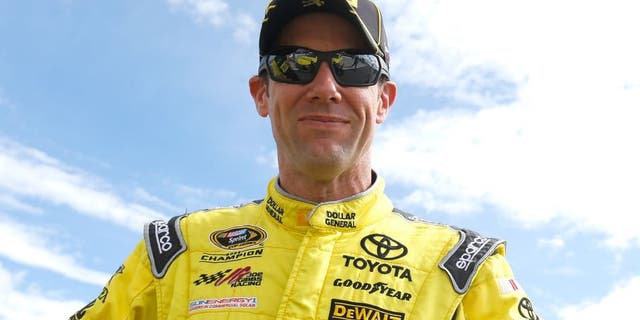 NEWYou can now listen to Fox News articles!
The situation is dire for Matt Kenseth, right? He's 12th in points with two races left in the Contender Round of the Chase for the NASCAR Sprint Cup, and right now, he's a whopping 32 points out of eighth place, the last transfer spot.
Faced with all that, there's no way he wins the Chase this year, right?
Wrong.
In fact, all things considered, Kenseth is in much better shape than he might appear at first blush.
Here are five reasons, Matt Kenseth will still take the championship this year:
5. He's great at Kansas Speedway -- Kenseth already has won twice at Kansas Speedway, where he's also amassed two poles and six top-five finishes. On top of that, Kenseth has led 502 laps at the 1.5-mile track. In his last 10 starts here, Kenseth has the aforementioned two victories, plus four top fives, nine top 10s and no finishes worse than 13th. He should be money in Sunday's Hollywood Casino 400.
4. He's great at Talladega Superspeedway -- Kenseth is one of the sport's best restrictor-plate racers, having won the Daytona 500 twice. He won the fall race at Talladega in 2012 and finished second in the fall race there last year.
3. He's won more races than anyone this year -- Already this year, Kenseth has five race victories, the most of any Sprint Cup driver. The team Kenseth drives for, Joe Gibbs Racing, has 13 victories, while no other team has won more than six races this season. The JGR Toyotas have speed in them every week and will be fast at Kansas and Talladega.
2. Other drivers will go down at Talladega -- The wildcard left in the Contender Round is the Oct. 25 race at Talladega Superspeedway. You can bet at least some of the Chase contenders will be caught up in big wrecks there. In the spring Talladega race, Chase drivers Jeff Gordon, Carl Edwards and Joey Logano all finished 30th or worse. Last year, of course, Kyle Busch got knocked out at Talladega. If some of the good cars have trouble this time and Kenseth doesn't, he could be right back in it.
1. Winners step up in the clutch -- Here's a stat four you: In the last four Chase elimination races dating back to Talladega a year ago, all four winners were drivers who had to get to Victory Lane or be eliminated from title contention. Brad Keselowski did it at Talladega in October 2014, then Kevin Harvick did it at both Phoenix International Raceway and Homestead-Miami Speedway to end the season. Harvick also won the first elimination race of this year's Chase two weeks ago at Dover International Speedway.