Five reasons Dale Earnhardt Jr. will win the Chase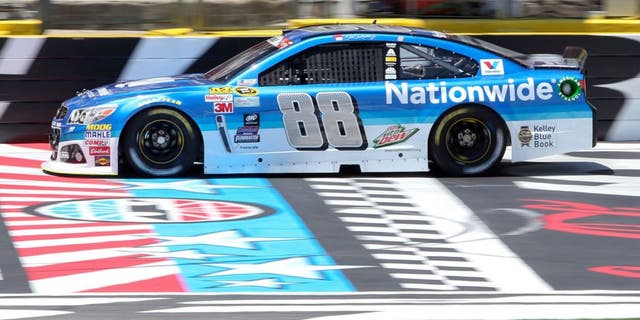 NEWYou can now listen to Fox News articles!
Junior Nation fans breathed a huge sigh of relief Sunday, when Dale Earnhardt Jr. advanced to the Contender Round of the Chase for the NASCAR Sprint Cup by literally the smallest possible margin.
Earnhardt and Jamie McMurray actually were tied in points following Sunday's AAA 400 at Dover International Speedway. The first Chase tiebreaker is best finish within the current Chase round. Dover was the best Challenger Round finish for both Earnhardt (third) and McMurray (fourth). But because Earnhardt's best finish was one position better, he advances and McMurray is out of title contention.
And now that he's among the final 12, here are five reasons Earnhardt will go all the way this year and win his first NASCAR Sprint Cup Series championship.
Consistency. Earnhardt ran out of gas in the Chase race at New Hampshire. In the seven races before that, his worst finish was 12th, and average finish was 8.43. And as noted, he was third at Dover. The No. 88 Hendrick Motorsports team is fielding good cars and Earnhardt is posting good finishes. That's what it takes to survive and advance this time of the year.
No Jimmie. At Hendrick Motorsports, Earnhardt and Jimmie Johnson share a garage where their teams prepare and service their respective cars. With Johnson already eliminated from the Chase and Earnhardt still in it, the No. 88 team might just get a little more help than it normally would this time of year.
It's 'Dega, baby! The final race in the Contender Round is at Talladega, where Earnhardt won in the spring. He also won the July race at Daytona, the sport's other restrictor-plate track. With the whole season on the line and Talladega an elimination race, is there anyone else you'd rather have behind the wheel than Junior? The short answer: No.
Sense of urgency. At almost 41 years of age and with marriage on the horizon, Earnhardt knows the clock is ticking if he wants to cement his legacy by finally winning a NASCAR Sprint Cup Series championship. He wants to win and he has the team to help him do just that.
Great tracks. The three races in the Contender Round of the Chase are at Charlotte, Kansas and Talladega, all places where the NASCAR Sprint Cup Series raced in the spring. In those races, Earnhardt finished third at both Charlotte and Kansas and won at Talladega, giving him an average finish of 2.33. The three tracks in the Eliminator Round are Martinsville, Texas and Phoenix, all places where Earnhardt has won before and Hendrick usually runs well.