Five Points: USMNT must turn down the heat against Peru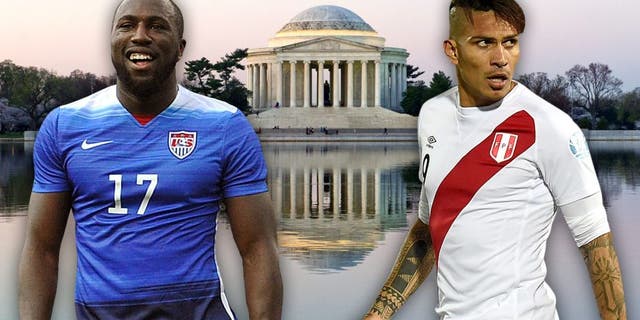 NEWYou can now listen to Fox News articles!
WASHINGTON --
United States coach Jurgen Klinsmann struck a defiant note as he tried to place the CONCACAF Gold Cup demise in the rear-view mirror again on Thursday. He defended what he labeled a "very, very good performance" in the semifinal defeat to Jamaica and lamented the subsequent and inevitable fallout in its aftermath.
"There are things that we need to do better, but there are also positives -- and a lot of good stuff -- in the Gold Cup that weren't mentioned when we don't win it," Klinsmann said in his pre-match press conference on Thursday. "That's just normal. That's the nature of the beast. But, right now, all of the focus is towards October 10. We have started that process already. We are very, very hungry for that game."
The arrival of the one-off Confederations Cup playoff against Mexico and the failure that caused it increase the pressure substantially on Klinsmann and the players heading into this international window.
Only success can release some of the tension within the ranks. It is why the friendly against Peru on Friday (live, 7:00p.m. ET, FS1, FOX Sports GO) assumes more weight than usual. There are important matters to sort through from a squad perspective. There is a vital game looming in the distance. And it is important for this group to take a substantive step toward it over the next few days.
Personnel evaluation, not overall structure, is the focal point
Klinsmann needs to prod his players forward without Michael Bradley and Clint Dempsey. Both players are expected to play with their club sides on Saturday before joining up with the team in Boston ahead of the friendly against Brazil on Tuesday in Foxborough, Mass. Their absences leave two vital holes in the side and limit the overall effectiveness of conjuring a picture of what this team might look like against Mexico next month.
Instead of focusing on team shape (and it is difficult to overstate the influence Bradley and Dempsey exert on it), the onus shifts toward player evaluation. The past few days allowed Klinsmann and his technical staff to evaluate individuals and test combinations. It is now on the selected players to produce. Klinsmann underscored the point as he discussed his approach to player evaluation in the buildup to this game.
"We'll probably maximize the subs," Klinsmann said. "We have 24 players now for a purpose. We hopefully want to give them as much exposure as possible, give them a chance to prove a point, even if it's really just a few minutes. The training sessions since Sunday have been very intense. We saw a lot of good stuff and a great attitude from the players. As I've mentioned, all of that stuff is geared toward the Mexico clash. So we'll probably make our subs."
Spotlight shines firmly on the heart of the back four
Klinsmann indicated his willingness to experiment in central defense when he summoned eight players capable of playing in that spot. It is an unwieldy number culled by the likely deployment of two of them -- Geoff Cameron on the right and Tim Ream on the left -- to cover at fullback. But it does underscore the desire to assess potential alternatives to the established partnership of Ventura Alvarado and John Brooks.
"I think the coach thought about it and he thinks he needs a little more," Brooks said. "Of course, everybody wants to play. I want to play, too. We're going to see who plays."
It is a source of intrigue after Klinsmann and his technical staff spent much of the week mixing and matching with potential duos. If Alvarado and Brooks retain their places, then it is a show of faith in that Gold Cup partnership. If there is another pairing preferred instead, then the door for selection is once again propped open with Mexico in mind.
Revamped defense must adjust to mobility with playoff looming
The composition of the back four remains one of the pressing questions for Klinsmann to answer, but the task ahead against Peru is clearer. Peru finished in third place at the Copa América by making life difficult on the opposition and squeezing the game whenever possible. The setup relies on keeping a decent shape with a pair of holding players and transitioning quickly from back to front toward Jefferson Farfan and Paolo Guerrero.
Peru's approach offers decent preparation for the date against Mexico next month and forces the defense to figure out how to cope with intelligent movement. Communication within this revamped back four is vital, particularly when Guerrero and Farfan drift into uncomfortable areas and pose a threat with the ball at their feet.
"[Peru and Brazil] are two teams that like to keep the ball," U.S. goalkeeper Brad Guzan said. "We know that, throughout the game tomorrow, they are going to have stretches where they do keep the ball. It's going to be on us to make sure that we're compact, we're solid and we make it difficult to penetrate and break us down. That's going to be on us."
Jermaine Jones enters the picture once more
Jones returns to the squad after spending much of the summer recovering from sports hernia surgery. His presence gives Klinsmann a reliable, trustworthy performer to help fill the gaps with Bradley away with Toronto FC. Most importantly, he also provides a seasoned, robust option ahead of the Mexico match next month. Jones buttresses the midfield operations with his industry, his range and his willingness to tackle. Those tenets could prove critical in a one-off tie.

The exact deployment of those qualities remains uncertain. There is room for him to operate in front of the back four, but his tendency to rove in search of the ball can leave gaps there. There is also some latitude to push him further up the field -- particularly with Danny Williams included in this squad as a natural holding alternative -- to break up the play and surge forward.
The key for Jones and Klinsmann now as they attempt to sort through those possibilities: keeping the veteran midfielder healthy over the next month. Klinsmann ruled out playing Jones for 90 minutes against Peru. It is a fine first step to ensure Jones continues his progression at the proper rate.
"Every training, I feel like I make a step forward," Jones said. "It's not easy for me to, but the whole process with the national team comes good for me now. I can push a little bit more. I hope that I can go 60-70 against Peru and maybe 90 against Brazil. And then go back to my team and I can play there, too."
Find something tangible to take forward toward next month
The gradual approach touted toward Jones' fitness applies to the entire exercise as whole. This match exists to gather information and sort through quandaries ahead of the playoff next month. There is a need to procure a win to bolster confidence and release some of the tension, but there is also a requirement to use this affair to advance the cause ahead next month.
"Ultimately, it's the preparation for the big match against Mexico," U.S. goalkeeper Tim Howard said. "It's one we feel like we can win, one we feel like we need to win. We have to put a lot of work in between now and then. Friday and Tuesday are good exercises for us."
It is an exercise that must yield some benefits. There is no time to waste. There are genuine concerns to address. The pressure is squarely on this team now. It is time to produce the desired response