Five must-see games on Pelicans' 2015-26 schedule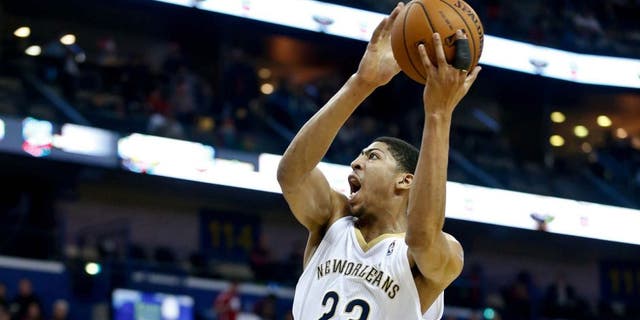 The NBA is all-in on the Pelicans this season, featuring them in nationally-televised contests a franchise-best 13 times.
Here's a look at five of the best games fans in New Orleans won't want to miss.
Oct. 27 at Golden State Warriors: Opening night of the NBA season against the defending champs. The Warriors will get their rings, and that includes new Pelicans head coach Alvin Gentry, who was an assistant in Golden State last season and was responsible for coordinating the team's high-powered offense. It's also a rematch of the first round playoff series between the two teams last season, and might give us an early indication of just how ready New Orleans is to make the leap that many expect.
Nov. 18 at Oklahoma City Thunder: This will be the first time the Pelicans see the Thunder at full strength this season, with a healthy Kevin Durant and Russell Westbrook both on the floor at the same time. New Orleans edged OKC out for the final playoff spot in the West last year, thanks to Anthony Davis hitting a crazy three-point shot to beat the Thunder, and give them the tie-breaker in the head-to-head matchup.
Nov. 27 at L.A. Clippers: Alvin Gentry hopes to turn the Pelicans from a defensive-oriented team into one with a more high-powered offense. The Clippers (and not the Warriors) led the league in offensive efficiency last season, so this will be a good test. Also, DeAndre Jordan might be the only big man in the league who can match David from an athleticism standpoint, so this should be an extremely fun matchup.
Dec. 4 vs. Cleveland Cavaliers: LeBron James, Kyrie Irving and Kevin Love come to town, and despite this one being all kinds of entertaining due to all of the talent on the floor, it'll give the Pelicans a chance to measure up against what's likely to be the best team in the Eastern Conference.
Feb. 4 vs. L.A. Lakers: Kobe Bryant is likely playing his final NBA season, so it might be the last chance to see one of the game's all-time greats in person for the fans in New Orleans. Beyond that, Roy Hibbert should provide an interesting defensive challenge for Davis inside.