Five fantasy football takeaways from Week 2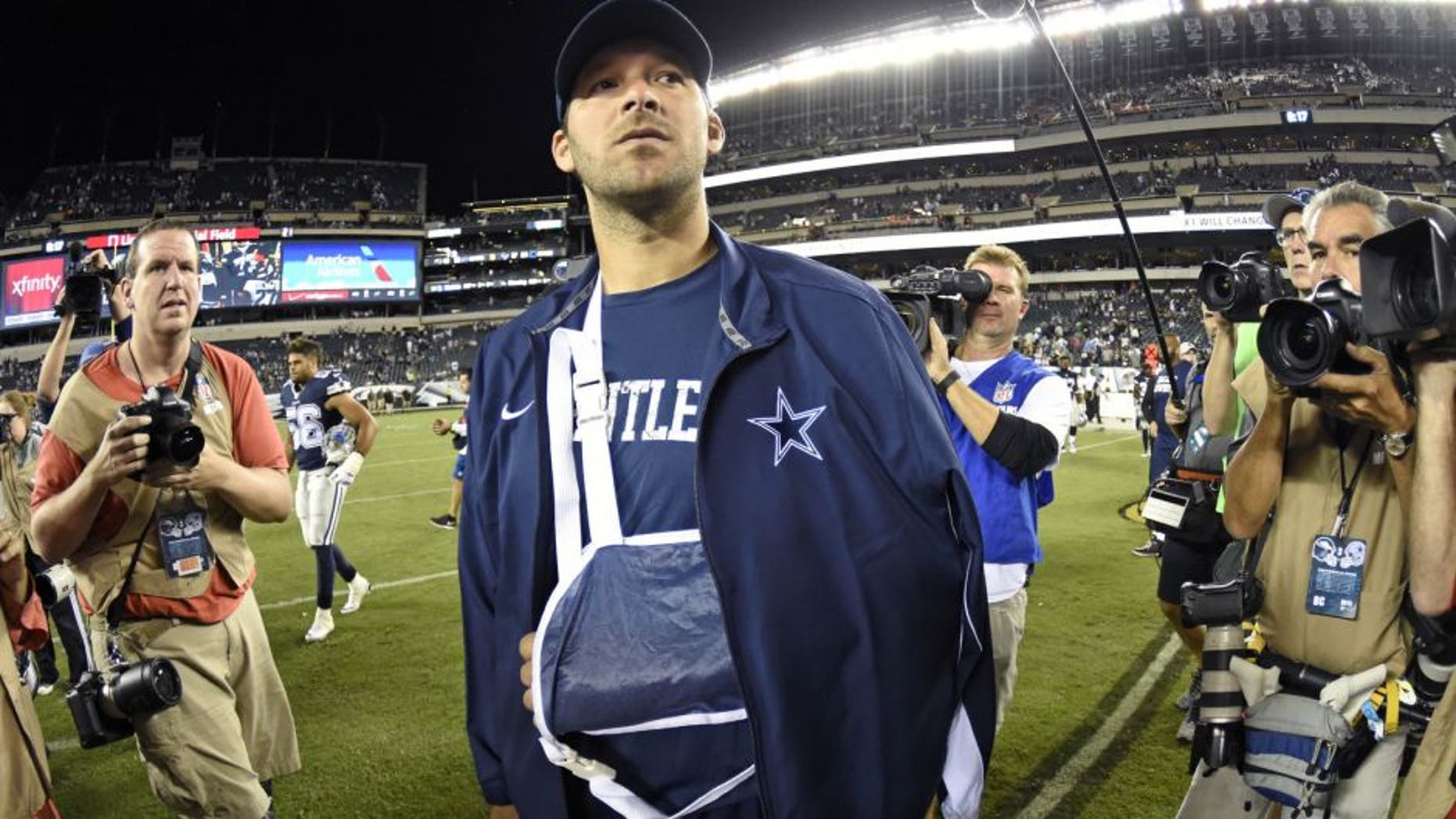 Let's take a look at five of the biggest takeaways from Week 2 of the fantasy football season.
Quarterbacks down
It's not often you see multiple starting quarterbacks suffer serious injuries in the same week, but here we are.
The most important of the bunch is the injury to Cowboys QB Tony Romo, who reportedly has a broken clavicle. That would sideline him for roughly eight weeks, which is obviously a huge chunk of your season.
So should you drop Romo? It's hard to say. Dallas has a rough playoff schedule in weeks 13-16 (@GB, NYJ, BUF) and it may be tough to throw Romo in your lineup if he doesn't play in the weeks leading up to those games.
A lot depends on how shallow your league is, but I'd recommend holding on to Romo unless you're in desperate need of a starter elsewhere. You just have to commit to it, as there's no point in keeping him on your roster now and then cutting him loose once the bye weeks hit.
Two other starting quarterbacks suffered injuries, although they don't appear to be as serious as Romo's. When asked if Lions QB Matt Stafford will play in Week 3, head coach Jim Caldwell said "We'll see", which is less than encouraging. Bears QB Jay Cutler could also miss Week 3 with a hamstring injury that pulled him from Sunday's beatdown from the Cardinals.
We'll know more later on in the week, but it's probably a good idea to scoop up someone like Tyrod Taylor or Marcus Mariota as insurance if you own Cutler or Stafford.
Running back blues
If you spent a first or second round pick on C.J. Anderson, Jeremy Hill or DeMarco Murray, you're probably wondering what's going on.
Of that group, Anderson is probably the most concerning. He's been dealing with an injured toe, and he's looked painfully slow with zero burst to start the season. Anderson has just 56 yards on 24 carries, and he's basically splitting attempts with Ronnie Hillman (75 yards on 21 carries) at this point. Hillman has been the superior back, and if that trend continues, this could end up becoming a true timeshare situation.
While we know Denver is going to run the ball with Gary Kubiak as head coach and with Peyton Manning on a steep decline, Anderson desperately needs a strong performance to keep Hillman at bay, and soon.
Bengals RB Jeremy Hill was benched in the second half against the Chargers on Sunday after two fumbles. Giovani Bernard tore it up in his absence, racking up 123 yards on the ground.
Bernard was always going to siphon passing down work, but he may start eating into Hill's workload a little more. Hill should be fine, and we've seen in the past that one team can feature two viable fantasy running backs, but PPR league owners should start playing the market for him a bit. Bernard has earned more work, and this could be a see-saw situation all year.
As for Murray, it's troubling that Philadelphia's offensive line has been so bad through the first few weeks. Murray has 21 carries for just total 11 yards through two games, and you don't end up with numbers like that unless there's constant penetration in the backfield.
The silver lining there, I suppose, is that Murray's workload shouldn't be in danger since the line is mostly responsible. The downside to that is Philadelphia will need to make some changes in personnel or scheme for Murray to have success, and it's hard to say if they'll be able to do that. If you're looking for a buy-low candidate for a trade, Murray is at the top of that list. His receiving ability should at least keep him relevant until Philadelphia figures it out up front.
As for Eddie Lacy owners? Just sit tight. His ankle injury may sideline him for a few weeks, but he'll have plenty of value once he returns. If James Starks is available on your waiver wire, go get him immediately.
Bounce-back weeks
It was easy to overreact to a few of the duds put up in Week 1, but hopefully you trusted your knowledge and remembered you spent a high pick on these players for a reason.
I'm talking to you, Allen Robinson owners. You likely had to take Robinson somewhere in the area of the 5th round in your draft, and I know multiple owners who benched him after his one catch effort in the opener. Robinson bounced back in a big way with a 6-155-2 effort in Week 2, rewarding those who remained patient.
Calvin Johnson (10-83-1), Greg Olsen (6-70), Odell Beckham Jr. (7-146-1), Steve Smith Sr. (10-150) and Adrian Peterson (29-134) all put up performances that were much more in line with original expectations, as well.
At least early on, don't get too cute with your lineups. Your high draft picks deserve more than one or two chances to fail before you move on elsewhere, because most time, it's just a small sample size fluke.
Pair them up
If you take a look at the top teams in Draft Kings tournaments, chances are most of those teams will feature a QB-WR pair. While it's generally not a bad idea to go cheap on quarterbacks (look at what Ryan Tannehill and Carson Palmer did, for example), if you do pony up for someone like Ben Roethlisberger, it makes sense to pair him with Antonio Brown.
Is it possible Big Ben could have a great day without Brown being heavily involved? Sure. Is it likely? Not really. Particularly in tournament play, where you know you'll need to be approaching 150 points to win anything, it just makes sense to pair your quarterback with his top targets, particularly the established ones. Tom Brady is throwing to Julian Edelman and Rob Gronkowski. Matt Ryan isn't having a big day without Julio Jones. You get the idea.
If you spend on a quarterback in DFS, pair him up.
Hot waiver wire
My top waiver wire additions, in order, by position:
QB: Marcus Mariota, Tyrod Taylor, Jameis Winston, Alex Smith, Derek Carr, Kirk Cousins
RB: James Starks, Matt Jones, David Johnson, Lorezno Taliaferro, Jeremy Langford
WR: Terrance Williams, Leonard Hankerson, Michael Crabtree, Philly Brown, Kamar Aiken
TE: Crockett Gilmore, Gavin Escobar, Jacob Tamme
D/ST: ATL D, NE D, CLE D, NYG D