Five Dolphins facing a make-or-break season in 2015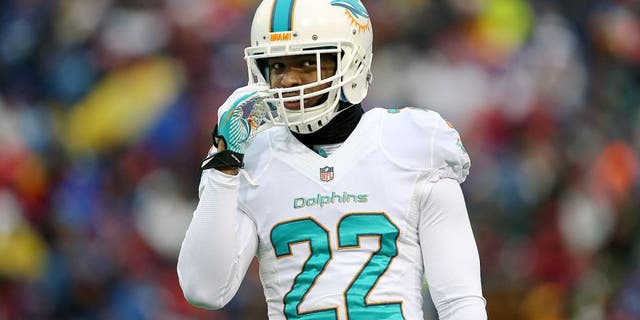 The Miami Dolphins were definitely spenders this offseason, making a big splash by signing Ndamukong Suh to the richest defensive contract in NFL history. They also brought in Greg Jennings, Jordan Cameron, and traded for Kenny Stills. With weapons all around Ryan Tannehill, the Dolphins are ready to make a playoff push in 2015.
While the roster is promising for this season, there are several players who may not be with the team in 2016 depending on their performance in 2015. Here are five names who are facing make-or-break seasons and could be cap casualties next offseason:
Jamar Taylor
Aside from Brent Grimes, the cornerback spot isn't exactly a strength of Miami's. Grimes is terrific, but with Jamar Taylor likely the second corner on the team, there's a hole on the other side of the defense.
Taylor has been working with the first-team defense thus far in training camp, but he may not be able to hold onto that starting spot heading into the season. He's only started three games in his young career and has yet to knock down a pass force a turnover. He has two years left on his contract, making him a free agent in 2017, but there's no guarantee he'll stay on the roster even that long.
If he fails to live up to the expectations of being a second-round pick in the upcoming season, there's no question the Dolphins could cut Taylor and save themselves just under $900,000 next offseason.
Jason Fox
It's no secret that the Dolphins need help across the offensive line. Branden Albert is a question mark for the start of the season after tearing his ACL in 2014 and the two guards are as inexperienced as they come. Jason Fox, who's more of a swing tackle, has yet to find a spot on the line. Albert isn't healthy as of now, but when he does return, he's expected to bump Fox from left tackle.
That leaves Fox with the option of moving inside to guard, or riding the bench with Ja'Waun James likely occupying the right tackle spot. There's no guarantee Fox will be a good, or even decent, offensive guard, but it may be his only option. If he can't solidify a starting spot on the line, he could find himself left off the Dolphins roster in 2016. He'll count just north of $1.5 million against the cap next season, but he can be cut with the Dolphins losing just $162,500 in doing so. This season will be make-or-break for Fox if he wants to remain in Miami.
Dallas Thomas
Dallas Thomas is in a similar situation as Fox. He hasn't locked down a spot at either guard spot, and with the Dolphins looking to sign free agent Evan Mathis, he could be without a job at any moment. He and Billy Turner are currently the front runners to be the team's starting offensive guards when the season begins, which doesn't bode well for the Dolphins as a whole.
Last season, he started nine games for the Dolphins but didn't exactly play well. Not well enough to guarantee himself a starting job in 2015. With issues all across the offensive line, Miami would be well-suited to sign Mathis and move either Turner or Thomas to the bench. If that does happen, Thomas will need to beat out his teammate to remain with Miami in 2016. His contract is cheaper than Turner's and would incur half as much dead money next offseason, which may lead the Dolphins to move on from the former Tennessee Volunteer.
Lamar Miller
Upon reading Miller's name on this list, it's easy to understand why some may overreact and wonder why Miami would move on from their star running back. The answer is simple: He's in the final year of his contract and Miami has depth at the position in rookie Jay Ajayi. Granted, the team only spent a fifth-round pick on Ajayi, but he's more talented than his draft position leads you to believe.
Ajayi was once viewed as a potential first-round pick before reports about the longevity of his knee surfaced. There's supposedly no short-term implications, but he may not be able to stay in the league as long as other running backs. Regardless, if the Dolphins see potential in the rookie in 2015, it could perhaps lead them to forgo giving Miller a lucrative contract.
Miller didn't eclipse 20 carries one time in 2014, which does show the lack of confidence Joe Philbin and the coaching staff has in him. He did average a healthy 5.1 yards per carry last season, but it's unknown if he can repeat that success in 2015. With the way running backs are treated on the open market, Miller probably won't get the big contract he believes he deserves -- at least not from the Dolphins. With Ajayi and Damien Williams also on the depth chart, 2015 may be Miller's last season in Miami.
Earl Mitchell
The Dolphins made moves this offseason that would lead one to believe they could move on from defensive tackle, Earl Mitchell. Signing Suh automatically moves Mitchell down on the depth chart, even if he does just shift over to the other tackle spot in Miami's 4-3.
The Dolphins also drafted Jordan Phillips in the second round of the 2015 draft, who's a player that could replace Mitchell in 2016, if not before. Mitchell only started four games for Miami last season, although he did record a career high in sacks with two. He's been relatively productive in his time in the league given how few games he's started but youth and inexpensive players often beat out age and money.
That's the case with Mitchell, who could be cut next offseason if Phillips shines in his rookie year. Mitchell will need to hold off the rookie this season if he wants to keep his starting job in 2015 and beyond. The Dolphins could afford to eat his $1 million in dead money if cut next offseason.
*All salary cap information comes from Overthecap.com