Five Burning Questions: Clemson Tigers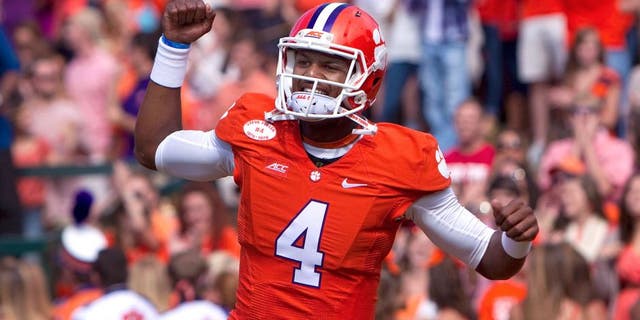 The Clemson Tigers, despite major personnel losses, are considered the Atlantic Coast Conference's best bet to end Florida State's three-year run of dominance, and the expectations center around one name: Deshaun Watson.
The Tigers have not captured the ACC title since the 2011 season, but coach Dabo Swinney has resurrected a national power, winning at least 10 games for four straight seasons with three major bowl appearances over that span. It's the first time in over two decades the program has shown such consistency. But that final step -- national championship contention -- has remained elusive, and that's where Watson, a true sophomore quarterback, comes into the picture.
Watson dazzled when given the opportunity in 2014. Not even a season riddled with injuries could dim his star. The Tigers lost a top-10 NFL Draft pick, most of their excellent defense and their offensive coordinator, yet were still tabbed as the preseason ACC favorites primarily because they have the quarterback. Here are five questions for Swinney's team with the season just around the corner:
1. Can Watson stay healthy (and live up to enormous expectations)?
There are two realities for Watson. On one hand, he's a sophomore quarterback recovering from a torn ACL that lost the offensive coordinator that recruited him. On the other, though, he's a preeminent Heisman contender regardless of circumstance.
The only thing that piled up faster than Watson's injuries last season -- broken collarbone in spring, broken hand, torn ACL -- was the numbers. Defenses couldn't stop him. He piled up 1,466 passing yards and 14 touchdowns, flirted with a completion rate near 70 percent and tossed just two interceptions. He added another dimension to the Tigers' attack by rushing for five more touchdowns.
"He's beyond what you've seen. He is a great football player, there's no question about that. It's pretty easy to watch this kid play and say, 'Wow, this is a rare guy,'" Swinnet said of Watson at the ACC Kickoff. " ... He's one of the smartest players I've ever been around. I haven't been around many seniors with the football IQ that this man possesses right now as a true sophomore. Really excited about his future, his potential. Can't wait to get him back out on the field.
"When he's out there, we got a chance each and every play for something good to happen."
The 6-foot-2 former blue-chip recruit will need a fully healthy season if the Tigers are going to contend for both the ACC's top spot and, by extension, a place in the College Football Playoff conversation. There are obstacles, of course: Highly coveted offensive coordinator Chad Morris accepted the head job at SMU. An offensive line that struggled at times loses four starters, including projected starter Isaiah Battle at left tackle after he entered the NFL Supplemental Draft. The running game was practically non-existent.
Watson's top targets, Mike Williams and Artavis Scott, return to the fold and headline arguably the best receiving corps in the conference. Swinney's staff recruits with the best of them and there's a host of former four- and five-star skill-position players waiting in the wings, including five-star freshmen wideouts Ray Ray McCloud and Deon Cain.
The expectation is for Watson, who is expected to be fully recovered from his ACL injury and could challenge the likes of TCU's Trevone Boykin for claim to the nation's top dual-threat QB, to carry the Tigers from Day 1. It's a substantial burden.
2. Where does the front seven turn?
Brent Venables has cemented his reputation as one of the nation's top defensive coordinators with his work at Clemson. Three seasons ago the Tigers' defense ranked outside the top-50 nationally, culminating in a 70-33 rout at the hands of West Virginia. Venables took over prior to the 2012 season and the team's defensive efficiency improved demonstrably (S&P+ rankings)
2012: 62nd
2013: 41st
2014: 2nd
Clemson's 2014 defense was spectacular. It did everything well. If Watson had been able to start every game -- he was clearly better than redshirt senior Cole Stoudt the minute he stepped on the field against Georgia in the season opener --" the Tigers could have contended with that defense.
Now it's gone.
The Tigers lost NFL Draft picks Vic Beasley (No. 8 overall), Grady Jarrett and four other contributors on an excellent defensive line. Linebackers Stephone Anthony and Tony Steward were also drafted. The hemorrhage of talent leaves plenty of question marks on Venables' plate. It's fair to assume Clemson will drop off defensively in 2015 -- but how far?
Beasley's loss is the headliner. One of the nation's top pass rushers, he racked up 12 sacks and forced two fumbles last season, requiring constant attention that opened up opportunities for teammates. Defensive end Shaq Lawson is the line's top returner after posting 3.5 sacks in 13 games as a sophomore. The junior could be in for a breakout campaign. He'll be joined by the likes of senior tackle D.J. Reader and juniors Kevin Dodd, Carlos Watkins and Martin Aiken.
The Tigers landed a star-studded recruiting class of defensive linemen -- blue-chippers Christian Wilkins, Albert Huggins, Clelin Ferrell and Austin Bryant --" could feature into the rotation but likely won't be difference-makers out of the gate.
At linebacker, the group is led by returning weakside linebacker Ben Boulware, who tallied five tackles for loss last season. There's hope that former four-star recruit Dorian O'Daniel, a high-school running back, can be an answer on the strong side.
It's time to find out how quickly Venables can reload.
3. Can Mackenzie Alexander build off a great freshman season without a similar pass rush?
Mackenzie Alexander didn't hold back in a recent ESPN feature.
"I want to be the best corner in the country, and I know for a fact that I am," Alexander said. "But I want to show people. It's about showing them every day."
Typical defensive back mentality, perhaps.
Alexander provided a quiet consistency as a true freshman in Clemson's secondary. He allowed just 20 completions despite playing 766 snaps, and while few would put him in the conversation with Florida State's Jalen Ramsey or Virginia Tech's Kyle Fuller just yet -- not to mention rival Florida star Vernon Hargreaves III -- the Tigers should feel confident about their secondary's returning talent.
Alexander will likely be looking to back up those words without an overwhelming pass rush. The Tigers ranked second nationally in adjusted sack rate last season, a number that directly ties into the success of the secondary. If Clemson can not put quite as much pressure on opposing signal-callers, can Alexander remain just as efficient?
His own self-appointed standards remain high, but quarterbacks may have more time to challenge him in 2014. The good news: He'll have excellent help in playmaking safety Jayron Kearse.
4. Will the offensive weapons be just as explosive without offensive coordinator Chad Morris?
There's a case for Chad Morris saving Swinney's job.
The Tigers were 19-15 under Swinney before he hired the spread offense guru to resurrect the offense. They went 42-11 with an annual top-25 offense with Morris calling plays. The question: Is this an Auburn-Gus Malzahn situation, where the coordinator became bigger than the head coach, or can new co-coordinators and Morris understudies Jeff Scott and Tony Elliot simply keep the train rolling.
Their jobs will be markedly easier if Watson remains behind center, but a top priority should be to complement their quarterback with a running game.
That starts up front where only center Ryan Norton has logged double-digit starts. Seniors Joe Gore and Eric Mac Lain should be able to step right in, but with the loss of Battle the Tigers will be turning to true freshman Mitch Hyatt to protect Watson's blindside and open up holes in the running game. (Hyatt, fortunately, is one of the top O-line recruits in Clemson school history.) Even so, it would be difficult for the offensive line to be much worse when trying to run the ball after ranking outside the top-100 in adjusted line yards.
Forgotten at times in the high-flying nature of Morris' offense is that the system churns out production on the ground. Last season was the first under Morris that a runner did not eclipse the 1,000-yard plateau: Andre Ellington posted back-to-back 1,000-yard seasons in 2011 and 2012 and Roderick McDowell followed suit in 2013.
There's plenty of returning talent at the running back position, too. Sophomore Wayne Gallman was the team's top back last season, rushing for 769 yards and four touchdowns. Former four-star recruits Zac Brooks, Adam Choice and Tyshon Dye have more experience under their belts. Even senior C.J. Davidson posted 250 yards and three scores. Everybody is back.
If the offensive line is clearing holes, Clemson could see a big jump in the running game.
Whether that compensates for the loss of Morris remains to be seen.
5. Can the Tigers get past Florida State?
Florida State is not the only obstacle in Clemson's way, but the Seminoles' three-year run of ACC dominance is matched by their winning streak against the Tigers. Until proven otherwise, the Atlantic Division clash is the conference's decisive rivalry.
Clemson came painfully close to the ACC driver's seat in last season's overtime loss -- a surreal matchup in retrospect with neither Jameis Winston nor Deshaun Watson starting at quarterback --" but the Seminoles have maintained their place on top of the mountain.
Florida State travels to Clemson this season with major question marks after losing loads of NFL talent over the past two years. The Seminoles routed the Tigers in their last visit to Death Valley, a stomping that underscored Jimbo Fisher's team's championship aspirations. Plenty will be decided by the time these two rivals lock horns on Nov. 7, yet still it remains The Game in ACC circles.
Aside from the Seminoles, Swinney's team faces big tests against Louisville and South Carolina on the road and Notre Dame and Georgia Tech at home. If Clemson lives up to the preseason prognostications as the ACC's best team, there's a good chance the conference gets left out of the College Football Playoff -- that's a difficult schedule to run the table on.
If the Tigers are going to even be a one-loss challenger with that slate, they need to answer plenty of questions ... and Deshaun Watson, of course, needs to be both healthy and dominant.