Five Browns facing a make-or-break season in 2015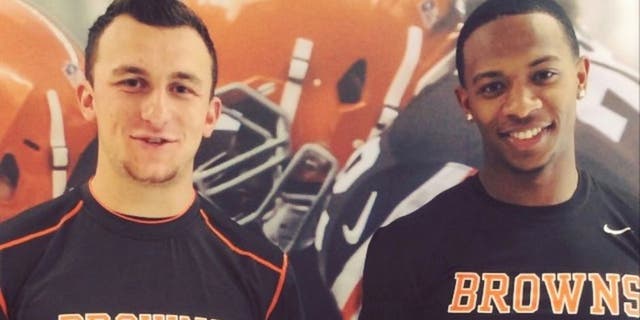 The Browns are hoping to build on their 7-4 start from a year ago rather than their 0-5 finish. Unfortunately the offseason began just as the regular season finished -- ended. Top receiver Josh Gordon was suspended once again, a disgruntled Kyle Shanahan ditched his offensive coordinatorship, and then first-round quarterback Johnny Manziel went to rehab.
Then it was Textgate and a rumored rift between general manager Ray Farmer and head coach Mike Pettine. Pettine will help pick up the pieces as Farmer serves his league-mandated four-game suspension with a new quarterback and a purportedly strong draft class in tow.
Josh McCown is penciled in to lead offense as the Browns' 23rd starting quarterback since their return to Cleveland. He'll have some new weapons to work with in Dwayne Bowe, Brian Hartline, Rob Housler, and perhaps even converted QB Terrelle Pryor, but it figures to be another uphill battle for the Dawg Pound in 2015.
Besides that, here are five Browns playing for their future in Cleveland as they face make-or-break seasons.
Johnny Manziel, quarterback
You can't even think about a make-or-break list without Manziel coming first. Sure, he might not even see the field in 2015, but the former Heisman winner needs to continue to do the right things off the field. Manziel's preparation and dedication is night and day compared to last year by most reports. If Johnny Football wants to stick around in Cleveland, at minimum he'll have to keep his nose clean and act like a professional NFL quarterback.
If Manziel can do that, then maybe he can go about proving himself as the eventual quarterback of the future for a franchise that so desperately needs one.
Justin Gilbert, cornerback
If Manziel's rookie season was a complete bust, fellow first-rounder Gilbert's was a near disaster. The former No. 8 overall pick is already giving Browns fans nightmares, especially since receiver Odell Beckham was taken four picks later by the Giants. Questions about Gilbert's work ethic and attitude still persist despite him saying and allegedly doing all the right things this offseason.
Fellow second-year corner Pierre Desir, who was drafted in the fourth round out of little known Lindenwood University, is seeing reps ahead of Gilbert. Gilbert has all the tools to become a big-time corner, but he may waste his talent out of Cleveland if he doesn't get his act together. If Gilbert has another disappointing season, a fully-guaranteed contract for two more years may be the only thing keeping him in Cleveland.
Tashaun Gipson, free safety
The undrafted Gipson exploded onto the scene with his first Pro Bowl season in 2014, one which was cut short by a knee injury in Week 12. The breakout season was not enough for Gipson to earn a long-term extension from the front office. He's not happy having to play under a second-round restricted free agent tender, but he'll have to prove he's more than a one-hit wonder if he wants to stick around past this season in Cleveland.
Gipson got off on the wrong foot by showing up to minicamp with an injured hamstring after skipping voluntary OTAs as a result of his contract squabble. If he can get back to his ballhawking ways of 2014, the Browns secondary has a chance to be one of the best in the NFL for years to come, with Gipson included.
Barkevious Mingo, outside linebacker
Mingo was drafted sixth overall in 2013 to become the Browns' next sackmaster, but he drew the ire of Browns fans last year by being relegated primarily to pass coverage. Mingo may be a solid cover guy, but let's face it, that's not where the bread is buttered for supposed pass rushers.
Was Mingo's season-long shoulder injury the reason why he was kept away from getting after quarterbacks? He's fully recovered from offseason surgery so we'll find out soon enough. The problem now is there is a lot more competition for playing time with Armonty Bryant shifting from the defensive line and second-rounder Nate Orchard also in the fray. Mingo could already be in trouble as seventh-round journeyman Scott Solomon is getting first-team reps ahead of him early in training camp. It would be shocking if Mingo doesn't at least get a chance to show what he can really do, but he has to make the most of it sooner rather than later.
Mitchell Schwartz/John Greco, offensive linemen
When the Browns pulled the trigger on Cameron Erving with the 19th overall pick in the 2015 draft, many assumed it would hasten the departure of someone on the right side of the line. That is, unless Alex Mack opts out of his contract and decides to head for the hills.
Erving has the versatility to play just about any position on the line and he needs to be starting within two seasons. Joe Thomas and Joel Bitonio obviously aren't going anywhere, so Mack's departure might be the only thing that can save a starting role for Schwartz or Greco in Cleveland. Greco has a team-friendly deal through 2017 while Schwartz is in his contract year. Odds are not in Schwartz's favor of getting a lucrative contract extension with a first-round pick looming behind him unless he takes the next step from solid to exceptional, and thereby forces Greco into a complementary role.
*All salary cap information used via OverTheCap.com