Five Bengals to watch in Monday's game against Tampa Bay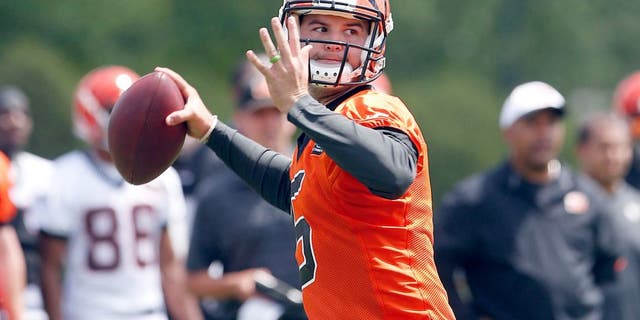 The Bengals take on No. 1 overall pick Jameis Winston and the Tampa Bay Buccaneers at Raymond James Stadium on Monday night.
Cincinnati will finally get a look at a new quarterback of its own as 2014 fifth-round pick A.J. McCarron is set to appear in a Bengals uniform for the first time. He is one of five players to watch Monday night:
A.J. McCarron, QB
It's been 599 days since McCarron has seen live game action, which came in the Sugar Bowl at Alabama. The second-year quarterback missed his entire rookie season as he recovered from a shoulder injury. He was scratched from the preseason opener with an upper body injury, but McCarron still has the inside track on the No. 2 job behind Andy Dalton despite his extended absence. McCarron received favorable reviews during OTAs and minicamp, but struggled with accuracy some early in training camp. McCarron needs to show that he can handle the speed of the game, but it wouldn't be surprising if he looks overwhelmed in his first go-round.
Margus Hunt, DE
Hunt was a preseason dynamo last year with a team-high four sacks. but the success didn't translate to the regular season as the Estonian recorded one sack in limited action. Hunt missed the preseason opener against the Giants last week with back issues, but should return Monday. Hunt's raw ability made him a second-round pick in 2013, but at some point he needs to take the step from project to rotation player. Hunt should get plenty of opportunity to show that he is ready to make the leap.
Devon Still, DT
Still played 27 snaps in the opener according to the Cincinnati Enquirer, but the only impact he made on the stat sheet was via a neutral zone penalty. Still struggled to get much penetration up front and if doesn't start getting some push, his chance for a roster spot will diminish.
Troy Hill, CB
Hill was the best player on the field for the Bengals last week against the Giants, according to Pro Football Focus. If Hill has another big game, the undrafted rookie out of Oregon can seriously threaten for a roster spot in a secondary littered with depth.
Dan France, OL
France, who spent all of last season on the practice squad, has gotten an on opportunity for more reps thanks to an injury to Jake Fisher. France led all Bengals last week with 69 snaps, jumping right at left tackle after Andrew Whitworth called it a day. Offensive line coach Paul Alexander came away impressed with France's technique, while also noting that Fisher is falling behind. Fisher obviously isn't in danger of losing his roster spot, but the undrafted France continues to make a push for a spot on the depth chart.