Five Bengals facing a make-or-break season in 2015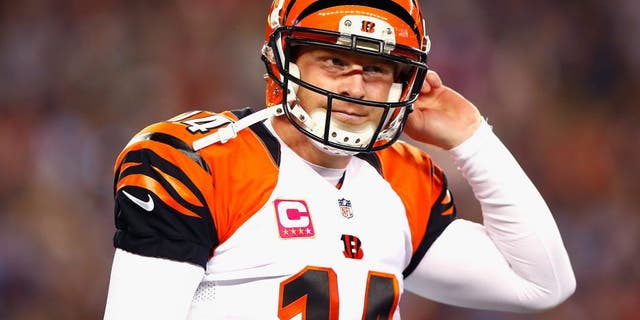 The Bengals have been to the playoffs four straight years, but have come up empty each time under Marvin Lewis. Lewis, 0-6 overall in the postseason, may need to get his team over the hump to save his job.
The pressure is on in Cincinnati, but Lewis isn't the only one under the gun. These five players will need to step up their game to extend their stay in the Queen City.
Andy Dalton, quarterback
No one on the roster is feeling more pressure in Cincinnati than Dalton. While he has managed to guide the Bengals to the postseason in all four of his seasons as the starting quarterback, his penchant for crumbling in big games has remained.
Week 18 has been a thorn in Dalton's side, as it was when the Bengals season came to an end in Indianapolis last January. He was just 18-for-35 for just 155 yards and no touchdowns or interceptions in the 26-10 loss to the Colts. All together, he's completed 55.7 percent of his postseason passes for one touchdown and six interceptions on the way to an 0-4 record.
Much was made of Dalton's six-year, $96 million extension last summer, but in reality it's a year-to-year contract, meaning if Dalton doesn't elevate his game this season, it could be his last in Cincinnati.
Andre Smith, right tackle
Smith himself this week that he is "tired of being mediocre." To be fair, Smith is being a little hard on himself, but he's still a far cry from being one of the best tackles of the last decade as he was once deemed to be.
A torn triceps cut Smith's 2014 campaign short after nine games, but the six-year veteran has dropped 23 pounds and says he hasn't felt as good since his college days. He says he's focused on becoming the best right tackle in the game, and entering his contract year, he'll need to at least come close to that to warrant another extension. The Bengals spent their first two picks of the 2015 draft on tackles Cedric Ogbuehi and Jake Fisher, leaving little room for error for Smith.

Mohamed Sanu, wide receiver
Sanu was forced to do some heavy lifting last season with both A.J. Green and Marvin Jones injured. He performed well at the outset, but faded badly down the stretch. Leading the team with nine drops certainly didn't help Sanu's cause either.
The fourth-year receiver out of Rutgers is still a bargain with a modest cap hit of $1.69 million, but his ability to stick around in Cincinnati beyond 2015 will come down to the numbers -- as in how well will he perform in his contract year, and how much money will he want as a result? If he looks to get paid like a No. 2 wideout, he may be looking for another team next season. Sanu is an ideal No. 3 receiver in the Bengals offense, and he'll have to outperform Jones if he wants a significant raise. Once Green gets top dollar, there is a good chance that either Sanu or Jones gets left out in the cold.
Marvin Jones, wide receiver
Jones never got to see the field in 2014 because of a foot injury. Entering his contract season, he'll look to capture the magic of 2013, when 10 of his 51 receptions went for touchdowns. If Jones can prove that he's not another one-hit wonder, it could prove to be a double-edged sword for the Bengals, however.
Lofty numbers would bring about lofty contract numbers, something the Bengals may not be able to afford after Green inevitably gets big-time money. As mentioned above, it's going to be tough for the Bengals to re-up all three receivers so it may come down to Jones vs. Sanu.
Devon Still, defensive tackle
Still's story over the last year has been one of the most heartwarming in all of sports. With daughter Leah now in remission from pediatric cancer, Still will have to fight tooth and nail among a bevy of defensive tackles just to hold onto his roster spot.
The fourth-year man out of Penn State desperately wants to repay the Bengals organization for the patience it extended to him and his family last season. Still is out of practice squad eligibility, so he must make the team or exit stage left from Cincinnati. If he does make the cut, it may be his last chance to prove he was worth the second-round pick the Bengals spent on him in 2012.
*All salary cap information courtesy of OverTheCap.com.