FIU gives Butch Davis 5-year deal to be head coach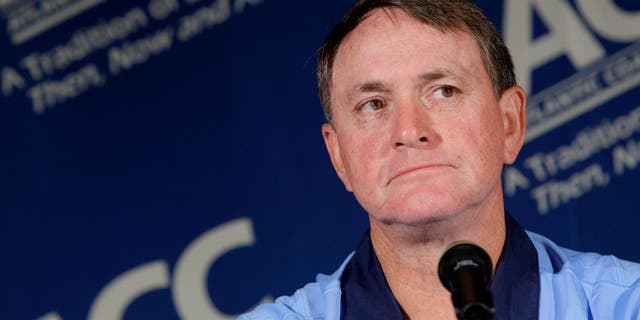 MIAMI (AP) -- Butch Davis wanted to return to Miami last year, when the Hurricanes needed a new coach.
FIU is bringing him back instead.
Davis was hired Monday as the new coach at FIU, agreeing to a five-year contract. FIU executive director of sports and entertainment Pete Garcia said Davis will be introduced Tuesday afternoon.
"We'll tell you how it happened then," Garcia said.
Garcia -- who has a long history with Davis, including stints working together with the Miami Hurricanes and then the Cleveland Browns -- used Davis as a consultant the last time he hired a coach, that being Ron Turner in 2013.
When Turner got fired after an 0-4 start this season left him 10-30 at FIU, Garcia didn't want to consult with Davis this time. He was widely considered to be the immediate frontrunner for the position, and now the deal is done.
ESPN, which has employed Davis as an analyst, said he told them he was leaving the network immediately for his new job. Garcia said that Ron Cooper, who has gone 3-3 as FIU's interim coach, will remain in place for the final two games of this season.
Davis spent six seasons as Miami's coach from 1995 through 2000, then leaving for the Browns -- and stepping away from a Hurricanes team that dominated its way to the 2001 national championship under Larry Coker.
Davis also coached for four seasons at North Carolina, getting fired just before the team opened practice for the 2011 season while the school dealt with allegations of improper benefits and academic misconduct. Davis was never implicated in that NCAA probe and has long maintained that he did nothing wrong.
Davis, who turns 65 on Thursday, will face a rebuilding job.
FIU went to bowl games in 2010 and 2011 under Mario Cristobal, who was fired in 2012 and is now an Alabama assistant. The Panthers have not been bowl-eligible since, going 16-42 since Cristobal's dismissal.
Some Miami fans lobbied openly last year for the Hurricanes to hire Davis, who acknowledged that he wanted to be considered. Instead, he'll now have a chance to coach against the Hurricanes -- the series between the schools resumes in 2018 and 2019.
It's not the first time Garcia has managed to make a splashy hire to coach at FIU. He landed Isiah Thomas as men's basketball coach in 2009, then fired him three years later after a 26-65 record.