Fitzgerald Glider Kits 300 XFINITY race in rain delay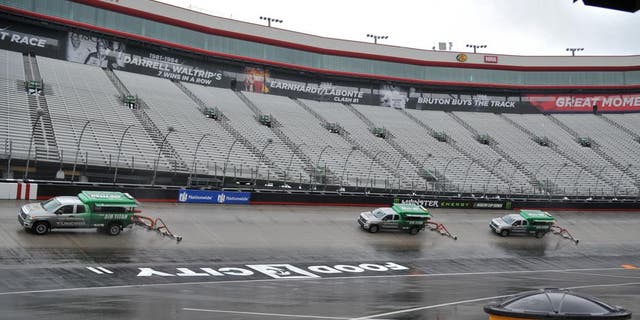 NEWYou can now listen to Fox News articles!
BRISTOL, Tenn. -- The NASCAR XFINITY Series Fitzgerald Glider Kits 300 is in a rain delay at Bristol Motor Speedway.
Kyle Larson was leading. He started from the pole and led 154 of the first 162 laps before rain brought out the red flag.
The rain came after Larson won the first 85-lap stage of the three-segment race and just eight laps short of completion of the second stage. Completion of the first two stages required to make the race results official, should NASCAR be unable to get it restarted after the rain delay -- so if it is called at this time, it would not be declared official.
Jet dryers were hard at work trying to get the track dry after the rains ceased, but there is more bad weather in the area. The drivers climbed back in their cars and fired their engines again around 3:15 p.m. ET, only to have the rain begin again before they could get back on track.
At 3 p.m., the chance for isolated thunderstorms and accompanying rain increased to 70 percent. The updated weather.com forecast then called for the chance of precipitation to hover between 70 and 85 percent for the remainder of the afternoon and into the evening.