Fitness questions swirl around Mexico camp ahead of clash vs. USA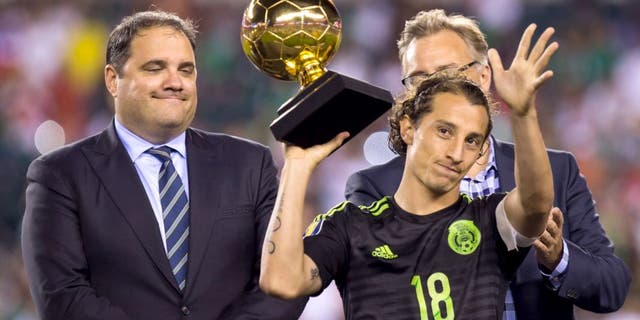 NEWYou can now listen to Fox News articles!
IRVINE, Calif. --
No one told Mexico interim manager Ricardo Ferretti about this part of the job. He grasped the pressure and understood the withering scrutiny. But he didn't expect to cope with injury after injury as he prepared El Tri for the CONCACAF Cup playoff against the United States at the Rose Bowl on Saturday (live, 8 p.m. ET, FS1, FOX Sports GO).
Every day offers a new wrinkle for Ferretti and Mexico to process on the way to the Rose Bowl. The initial 23-man roster submitted to CONCACAF last Thursday is now considerably out of the date.
"I already have a lot of problems with injured players and I want those who are 100 percent for this match," Ferretti lamented during his press conference in Mexico City on Monday.
The casualties piled up as the players gathered for training camp. Giovani Dos Santos exited after he picked up an unidentified muscle complaint in LA Galaxy's 1-1 draw at Seattle Sounders on Sunday. José Juan Vázquez left on Tuesday after he reported to camp with a pair of injuries and struggled to overcome them in time to feature.
Ferretti named their replacements and pondered how to replace the dogged Vázquez in central midfield, but he mostly waited. Those injuries impacted the side, but they paled in importance to the status of Andrés Guardado and Rafael Márquez heading into the one-off playoff on Saturday.
In one sense, their potential inclusion represented an unexpected boost. Guardado (ankle) and Márquez (groin) were both expected to miss the match when they first sustained their injuries. Their continued presence in Ferretti's plans reflected their importance to the side.
Guardado offered a timely boost when he returned to the field for PSV Eindhoven on Sunday. The midfield fulcrum played 72 minutes in his side's 1-1 draw and traveled to Mexico City after the match with his regular place in the starting XI within grasp. His return loomed as a critical one given El Tri's reliance on his leadership off the field and his tidy work in possession on it.
These next few days present Guardado with the opportunity to hone his fitness and his sharpness ahead of the big day. There is little question about his spot in the side now. It is a matter of whether he can perform to his usual standard. He remains a vital component in the plans, the sort of figure capable of driving Mexico forward with creativity and incisiveness and maintaining those critical supply lines to the front two.
Guardado's progress shifted most of the focus to Márquez's recovery. The veteran defender remains an integral figure in the squad, particularly given the lack of depth in central defense. His health plays a significant role in the direction and the shape of the preparations, according to Ferretti.
"The absence of any good player affects the team," Ferretti told reporters in Mexico City on Monday. "You create a group of players thinking about several possibilities. We know the players in our team and Rafael Márquez is no exception."
If Márquez is deemed fit enough to feature, then Ferretti boasts the latitude to stick with the 5-3-2 setup implemented by predecessor Miguel Herrera. Márquez functions as the bedrock in the back three: He sets out the line for Héctor Moreno and Diego Reyes and steps into midfield to facilitate possession. His particular qualities -- including his ability to stretch the field with diagonals and his vast experience in these tense matches -- are irreplaceable if he does not feature.
Those plans disintegrate if Márquez suffers a setback along the way. His absence forces Mexico into a four-man defense and prompts a complete tactical shift. There is perhaps more flexibility in some senses -- Márquez's lack of pace requires more caution -- and yet there are more restrictions in others. The selection is straightforward with Moreno and Reyes partnered in central defense, but the fallout elsewhere -- the likely introduction of wingers, the tinkering with the midfield pieces to fit the new shape -- constitutes a fairly significant upheaval.
Ferretti plans to work through those possibilities as the deadline to replace injured players approaches on Friday. It is all he can do at this stage. He manages a capable team with or without Márquez. It is just a matter of assessing the contingencies and biding his time until the verdict.
"I cannot say say we have no chance without him," Ferretti said. "What about the other players? Or the day he retires? What will happen to us? We are prepared as possible to deal with this game."
It is perhaps a more convoluted task than first anticipated, but it is the brief in front of Mexico now. There is no allowance for poor health. It is down to El Tri to cast those complications aside and take care of business even as the fitness questions swirl.