Fired-up Arlovski looks to 'smash' Overeem after being called out by teammate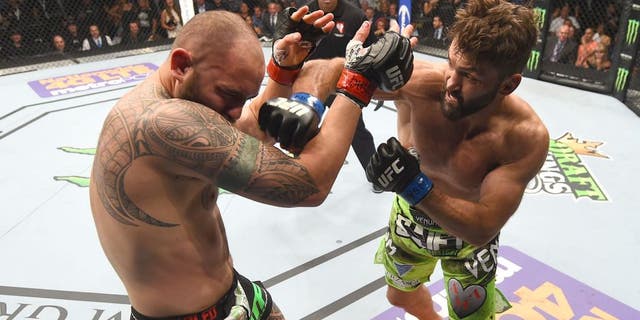 Things must be getting a little weird in Albuquerque as teammates Andrei Arlovski and Alistair Overeem prepare to fight one another -- while training at Greg Jackson and Mike Winkeljohn's same mega-gym. Coach Jackson has said he's dividing up time, space and training partners for the two heavyweights to work with in preparation for their May 8 Holland date.
Arlovski didn't sound at all too worried about getting in Overeem's way at the gym, however. "[Expletive] no, absolutely not. I'm training on my schedule," he told MMA Latest.
"If I have to be there in the morning, I will be there in the morning. If I have to be there at night, I will be there at night."
The Pit Bull insisted that he is the priority at Jackson/WinkelJohn's, not the Dutchman. "If I have to be there all [expletive] day, I will be there all [expletive] day. I'm number one priority for the team and that's it, period."
The former world champion admitted that it is a bizarre situation to be training at the same gym as his opponent, however. "It is a little weird," Arlovski allowed, briefly. "But, for me, it isn't weird, because I don't give a [expletive]."
He quickly took confidence in the fact that Jackson and Winkeljohn are in his corner, not Overeem's. "He won't have coach Winkeljohn or Greg Jackson as his coaches so it is no help to him," Arlovski said. "So, I am fine with that."
Though Arlovski probably didn't appreciate being called out by a teammate to fight in the first place. The Pit Bull says he never asked to fight Overeem -- in fact, the UFC told he and his team that Alistair was the one who begged for the bout.
Once he makes it to fight week, Arlovski will be back home in Europe but in a nation where his opponent will likely have a big edge in fan support fromt he Rotterdam arena crowd. As with other issues, don't think Arlovski is sweating it.
"I'm sure there will be people [expletive] booing me, but it's all good," he conceded. "I'm very excited."
Mostly, Arlovski is focused on eliminating the obstacle in his way, no matter what:
"Overeem is in my [expletive] way, and I will do everything possible to smash him and that's it, period."