FINALS WATCH: Texas weather expected to behave for Final Four fans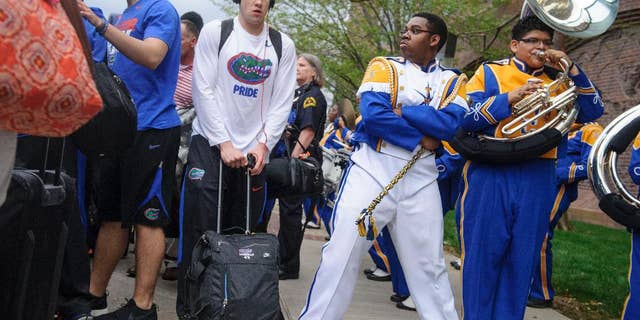 ARLINGTON, Texas – Ice was the problem when the Super Bowl came to Jerry Jones' billion-dollar showplace three years ago.
Severe thunderstorms are the more likely concern for the Final Four's first visit to the home of the Dallas Cowboys, although the forecast in North Texas looks OK beyond some flare-ups Thursday. Fans just might get wet trying to enjoy the festivities between the semifinals on Saturday night and the championship game Monday.
Steve Fano with the National Weather Service in Fort Worth says a couple of cold fronts moving through during the weekend will reduce the threat of hail and strong winds, spring staples on the southern tip of Tornado Alley.
A rare cold snap in February 2011 virtually shut down the Dallas-Fort Worth area during Super Bowl week. The week ended with great weather, but the event was marred by a seating fiasco that led to lawsuits from displaced fans.
The best chance for rain is Sunday, when the highlight is an outdoor Bruce Springsteen concert on a vacant lot in downtown Dallas where the only other Final Four in North Texas was held at Reunion Arena in 1986.
— Schuyler Dixon — https://twitter.com/apschuyler
___
NCAA Finals Watch follows the Final Four games and all the activities surrounding the event as seen by journalists from The Associated Press in North Texas — from the big stadium in Arlington where the games will be played to downtown Dallas. It will be updated throughout the day with breaking news and other items of interest. Follow AP reporters on Twitter where available.