Finally a playoff team, Toronto FC aiming bigger in 2016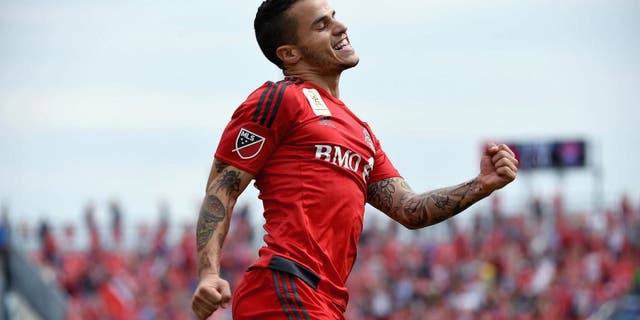 Toronto FC entered MLS in 2007 to huge crowds, but the excitement didn't last long. The Reds were terrible and, most concerning, they didn't get better. They failed to make the playoffs in their first eight years of existence, never finishing better than 11th. But last year changed everything, as the big-money signings of Sebastian Giovinco, Michael Bradley and Jozy Altidore transformed a club desperately in need of massive upgrades. The trio, powered by Giovinco, led the club to sixth place in the East and their first ever playoff appearance. Now they want more. What will be the keys to the Reds making a deep run in 2016?
1. Can Giovinco match his magical 2015?
There is no doubt that Giovinco deserved the MVP award last season. The only question is whether he had the best season in MLS history. The Italian was that good, scoring 22 goals in 33 matches to pace the league. It wasn't just his goal scoring that revolutionized Toronto FC either. His creativity was a revelation and made TFC one of the toughest teams in the league to defend, as they racked up 58 goals, good for second-best in MLS. The only question now is whether he can possibly match what he did a year ago. Anything close will be remarkable.
2. The defense needs to improve
Toronto FC's attack was spectacular, racking up 58 goals, but the problem is they gave up just as many. The defense doesn't just have to get better in 2015, it has to get a lot better. The Reds weren't ignorant to their failings at the back last season, adding Clint Irwin in the offseason to take over in goal, while also bringing in Drew Moor to instill some much-needed leadership to the back line. All eyes will be on that defense to turn things around, but the midfield needs to chip in, too. Far too often, opposing teams got to run at the Toronto back line all match long. The backline needs to improve, but TFC needs to make keeping out goals a team effort, starting with the forwards, back to the midfielders and then to the defense and goalkeeper.
3. A consistent Altidore
Alitdore returned to MLS in 2015 and had a strong season, scoring 13 goals in 25 matches for Toronto, but there is still plenty of room for improvement. He still missed too many chances, had spells where he disappeared and wasn't active enough to be the MLS-destroying striker that many believe he can be. Even Altidore said he recognized the need for his game to take another step and put in a ton of work in the offseason to get him there. Toronto FC will have a good striker in Altidore, but will they have a consistent one that can make his case as the best in MLS? That could be the difference in whether the Reds are a good team or a great team.