Fill-in Sadler takes no-lose approach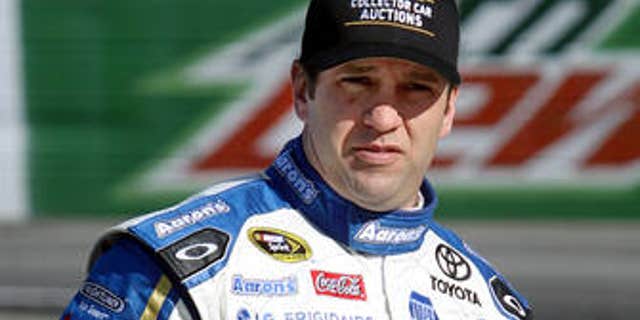 MARTINSVILLE, VA. – Elliott Sadler has "nothing to lose."
With the Sprint Cup talent pool thinning, Sadler has the opportunity to showcase his talent over the next four races while filling in for Brian Vickers in the No. 55 Michael Waltrip Racing Toyota.
Sadler was selected to sub for Vickers, who was sidelined Oct. 14 after a blood clot was discovered in his right leg. Vickers is expected to return for the 2014 season.
"To sit here and tell you that I just want to go be competitive and not do much is a lie," said Sadler, who qualified 35th for Sunday's Goody's 500. "I want to come out here and try to qualify good each week and run good each week and put ourselves in position to be there at the end of the race.
"I'm a competitor no matter what I play and no matter what I race. I want to be involved and competitive in a good way. I don't know what you guys think is realistic or not, but we're here to win a damn race. This is what we come for; whether it's this weekend, next weekend or Phoenix or Homestead, it can happen. That's the attitude we have."
Although Sadler competes full-time in the Nationwide Series for Joe Gibbs Racing, the chance to return to Cup after a 26-race absence can serve as an audition of sorts for potential suitors in search of a veteran driver. Sadler, 38, thinks his career has come "full circle."
"It's a very unique situation because Brian and I have become so close this year as teammates at Gibbs, and for he to give me the blessing and want me to get in his race car and do a good job for him and his team here the last four races makes me feel really good," Sadler said.
"It's neat that it's a full circle. It's neat that I'm doing it for Michael. I've known him for a long time and had a great conversation with he and Rob (Kauffman, co-owner) to come in and represent those guys the best way that we can.
"But, the conversation I've had with Brian Vickers the last couple of days has been very special. I want to get in here and do a good job for him in his race car while he gets back 100 percent, and it's neat sometimes to have opportunities come and go and this is a great opportunity for me."
Sadler's return could not have come at a better track than Martinsville Speedway for the Emporia, Va., native, who grew up just a few hours down the road. He considers the half-mile "a tough track" because it "involves a lot of rhythm," hitting marks, finding the groove and not overdriving the car.
Although Sadler has not competed in a Cup car at Martinsville for the past three years, he was able to "lean on" his MWR teammate Clint Bowyer and his JGR co-worker Denny Hamlin for advice. Sadler also thinks he'll have the hometown crowd behind him.
"It's even extra special to be able to be here at Martinsville -- one of my home tracks," Sadler said. "I came here as a kid in the stands for a lot of races to watch Cup racing here, then as a crew member for my brother's car, and now here to be able to kind of come back and kind of kick-start these last four races at Martinsville means a lot to me this close to home.
"Trusting in me to drive their car and represent those guys on and off the track. So, definitely a special opportunity for me, and we'll go out here and make the most of it."
While Sadler's only Cup start in the Generation 6 car came at Kansas Speedway 26 races ago, he was fortunate that MWR had a test scheduled at Texas Motor Speedway earlier this week. Any seat time could help Sadler get acclimated to the cars as well as to the No. 55 race team and crew chief Scott Miller.
"We were able to go to Texas this week and test because I haven't been in a Cup car in a while, so that really helped a lot," Sadler said.
"My guys are working their butts off to get the cars good for these last four races, and I'm going to do everything I can to give them the information to make the car as good as we can and get me as good as we can and we're going to go after it."
The original article can be found at FOXSports.com: Fill-in Sadler takes no-lose approach.