FIFA rules male players can wear turbans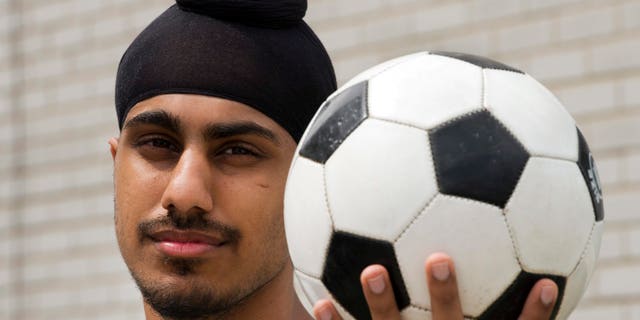 FIFA has ruled male head covers are acceptable to wear during matches, a decision that goes against the ban on turbans imposed by the sport's provincial governing body in Quebec.
Soccer's world governing body says male players can wear head covers as long as they are the same color as the team's shirt, have a "professional appearance," are not attached to the shirt and don't "pose any danger."
The Canadian Soccer Association had asked FIFA to rule on the matter after Quebec's governing body refused to overturn its provincewide ban on turbans.
Brigitte Frot, Quebec's director general of the provincial association, had said the provincial federation would allow turbans if FIFA indicated they were safe.
The ban particularly affected Sikh men and boys who wear turbans, patkas and keskis for religious reasons.
The Quebec Soccer Federation said it welcomed the news "with enthusiasm and relief." The Quebec body has not said exactly what it will do next.
It planned to hold a news conference Saturday near Montreal and said it will reveal its board of directors' decision with respect to the "lifting of the ban."
At least 20 out-of-province teams are skipping a weekend tournament in Montreal and some players in Quebec leagues have also decided to wear turbans in protest of the ban.
The International Football Association Board, soccer's rules-making panel, approved headscarves for female players in July after FIFA's medical committee decided two scarf designs do not threaten the safety of female players.
The approved designs use quick-release velcro fasteners and magnets. That reversed a ban on the Islamic hijab that's been enforced in FIFA competitions since 2007.