Fiesta Bowl Sacks CEO for Allegedly Violating Campaign Finance Laws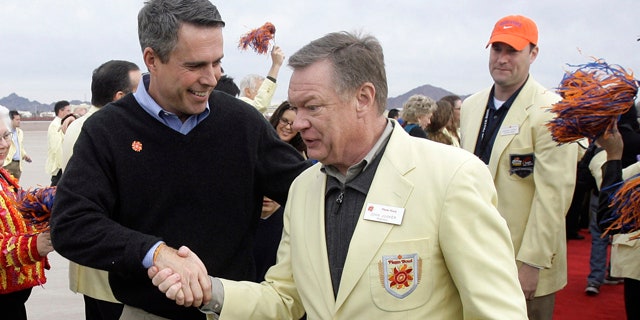 PHOENIX -- The Fiesta Bowl fired its longtime CEO John Junker after a scathing internal report released Tuesday found "an apparent scheme" to reimburse employees for political contributions.
Such reimbursements would be violations of state and federal campaign finance laws. The Arizona attorney general's office is conducting a probe of the matter.
The Fiesta board of directors voted unanimously to fire Junker "for his improper and inappropriate activities documented" in the report.
Junker has been the face of the bowl for three decades, leading it from an upstart event to one of the BCS giants. With an annual salary of about $600,000, he had been on paid administrative lead since Feb. 4 after, the board said, he failed to comply with two written directives to cooperate with the investigation.
The board said the probe also uncovered "excessive compensation, non-business and inappropriate expenditures and inappropriate gifts."
The 276-page report, the result of a probe headed by two Fiesta Bowl board members and a retired Arizona state Supreme Court justice, was published on the bowl's Web site fiestabowl.org.
The investigators said it found the "apparent scheme" to reimburse at least $46,539 for employees' political contributions.
The probe also uncovered "an apparent conspiracy to conceal the reimbursement scheme from the bowl's Board of Directors and state officials," according to the news release accompanying the report.
Bowl officials said the initial, brief investigation of the reimbursements allegations was "flawed." That probe found no evidence of any such wrongdoing.