Fernando Torres and Luis Enrique hit the century mark in La Liga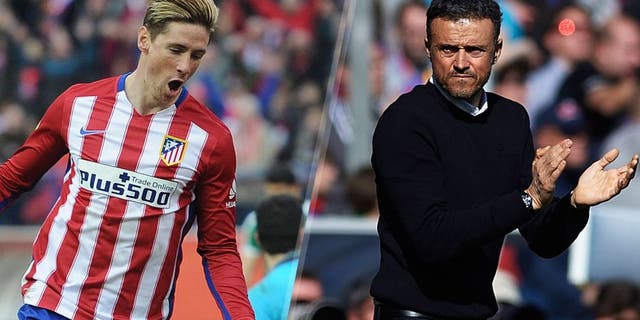 It was a weekend for centurions. At the summit of La Liga, Luis Enrique, the Barcelona head coach, reached triple-digits for his number of matches in his current job. His hundredth game on the touchline for Barca was much like most of them. In common with 80 others of his first hundred, it ended in a win. The 2-0 victory at Levante, though, will probably not rank in his favorite top 50: These were three points gouged, rather than gracefully eased out of opponents who proved surprisingly stubborn.
A century was also reached by Fernando Torres, a man who started scoring goals for Atletico Madrid when Luis Enrique was still netting them as a player for Barcelona, back at the turn of the millennium. Torres clocked up his 100th goal for the club where he served his apprenticeship, made his name as 'El Nino', 'The Kid' with electric speed, and is now contemplating, ahead of his 32nd birthday, his second departure from the Vicente Calderon. His career is unlikely to end with the romantic drawing of the curtain he would have liked, a retirement in Atletico's colors.
For Torres, it had been uncomfortably long wait between goals number 99 and 100 as an Atletico idol. His return, 13 months ago, to the club he left for Liverpool in 2007, had seemed a good idea for player, for club, and for Atletico supporters who have always loved him as one of their own, when the deal bringing him home after frustrating periods at Chelsea and then AC Milan was agreed. The reunion began well, not least when he scored twice against Real Madrid.
But the goals dried up after that. Saturday's, the last of Atletico's three in their 3-1 home win over Eibar, arrived in injury time, after Torres, who turns 32 next month, had been on the field for 15 minutes as a substitute. It was his first since September.
The victory maintained Atletico's position as Barca's nearest chasers at the top of La Liga, three points in arrears, and if the two-goal margin looks as if they made light enough work of their Basque visitors, it conceals some awkward phases. Eibar took the lead, exploiting uncertainties in an Atletico defense missing Juanfran and the suspended Diego Godin and Felipe Luis. The applause from an enthusiastic, loyal Calderon, that greeted Torres when he converted for 3-1 spoke of relief that the outcome was secured, as well as appreciation for the scorer.
Atletico were not alone for being made to sweat by so-called modest opposition. Levante, bottom of the Primera Division, had the distinction of preventing any Barcelona player from scoring for a full 90 minutes. The first goal on a stodgy game was David Navarro's: an own goal. Barca's Luis Suarez scored the second only in time added on for stoppages at the end of the second half.
Suarez, whose career has criss-crossed that of Torres – the Uruguayan was recruited as a replacement for the Spaniard by Liverpool in 2011 – now has 36 across competitions for the season, and his 20th in the league, against Levante, means he looks down on everybody else, including team-mate Neymar, in the rankings of leading goalscorers in Spain. At this rate, Suarez, who played his first match for Barcelona less than 18 months ago, will reach 100 goals while representing a Spanish club in much less than half the time it took Torres to score the 100th of his Atletico career.
Barcelona's win clocked up 28 matches - just five of them drawn - since their last defeat, equaling a run set during the penultimate season, 2010-11, of Pep Guardiola's coaching stint there. Luis Enrique cares little for such landmarks: "When the season ends I'll tell you if the 28 games unbeaten served the right purpose," he said. "These are just numbers. If they end up earning titles, then they mean something."
As for his reaching his 100 matches in charge, he remarked: "Better to get to 100 matches than 50, I guess. But it doesn't really say anything. I am more interested in collective records than individual ones."
If he did not quite apologize for the pedestrian, stoic manner of Barcelona's win, he acknowledged it was functional rather than flourishing. "The team did what was needed. I am happy with the result and the attitude of the players." The attitude of one senior player was more candid. "The knack of playing poorly and still winning," reckoned Javier Mascherano, "is how you progress and grow. In the past this team has suffered when we haven't played our best football. In that sense we have developed as a team."
And in that sense, Real Madrid still have some catching up to do. Zinedine Zidane achieved his first away win as a head coach, but had some nervous moments on the way to Madrid's 2-1 win at Granada, who sit penultimate in the table. The ease with which Karim Benzema tapped in Madrid's opening goal, on half an hour, belied the constraints Granada's aggressive soccer had placed on Madrid until then. The instant impact of Granada substitute Yussouf El-Arabi, who equalized soon after his introduction in the second half, rewarded the persistent courage of the Andalucian club.
Granada sought a winner, not just to consolidate their point, and they finished the night without any reward from a brave display only because of a determined Luka Modric, excellent for Madrid. Modric took home with him a rare souvenir, a goal, beautifully and firmly struck from distance with six minutes of the match remaining. Madrid stay in the title race, four points behind Luis Enrique's leaders, one below Atletico.