Felix Hernandez's 12 strikeouts were too much for Texas Rangers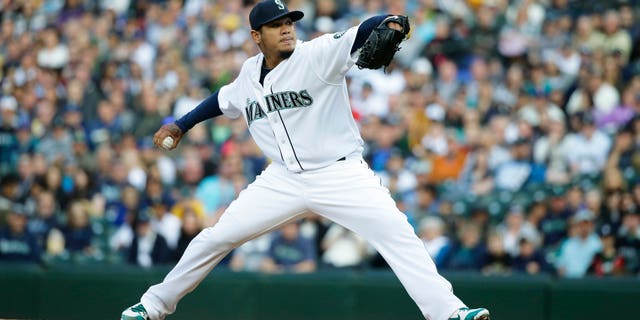 NEWYou can now listen to Fox News articles!
SEATTLE (AP) – For all the effort Colby Lewis exerted trying to work out of trouble, there were only two pitches that he really wanted back.
One left the park off the bat of Seattle's Mike Zunino. The other was rattled into the right-field corner by Brad Miller for an RBI triple.
With Felix Hernandez on the mound for Seattle, that was too much for the Texas Rangers to overcome.
"There wasn't one inning that was very easy tonight," Lewis said. "I didn't really get any quick innings. Seemed like I was always pitching out of the stretch. Always had to work."
Hernandez struck out 12 over seven innings, and Zunino's first home run of the season helped the Mariners snap a four-game losing streak with a 3-1 win over the Rangers on Saturday.
Hernandez (2-0) was brilliant on his bobblehead night, allowing one run and two hits. The ace right-hander struck out 10 or more batters for the 34th time in his career and beat Texas for the first time since July 14, 2012.
"You don't want to see him seven or eight innings," Texas' Shin-Soo Choo said. "We try to take a lot of pitches but he did a really good job the first four, five innings make us chase pitches. Every inning going, he pitches better and better."
Zunino's homer came after a miserable first 10 games when he struck out in nearly half his at-bats. Zunino's drive went 412 feet into the second deck in left on the first pitch of the fifth inning from Lewis (1-1) and gave Seattle a 2-1 lead.
Miller added a two-out RBI triple in the sixth as Seattle finally came through with a runner in scoring position and two outs.
"I left a couple of balls in there in the zone late that shouldn't have been there," Lewis said.
Seattle had plenty of opportunities to knock Lewis around but left the bases loaded twice and ran itself out of scoring opportunities in each of the first three innings.
Ultimately the baserunning issues didn't matter because of Hernandez's pitching.
"You go up against a guy like this, you know he's going to be stronger as he goes through the game and you got to capitalize on your run-scoring opportunities," Texas manager Jeff Banister said.
Leonys Martin was the only Texas batter to get a hit off Hernandez, reaching on a broken-bat double in the first and singling in the fifth inning when Texas got its only run.
Hernandez's 12 strikeouts were his most since recording 15 against Tampa Bay in June 2014. Martin was the only Texas batter not to strike out.
The only mistake Hernandez made was hitting Jake Smolinski on the hand on a check swing in the fifth inning. The play was reviewed, with Seattle claiming it was a foul ball, but the call stood. Smolinski advanced to third on Martin's single and scored on Elvis Andrus' grounder.
It was the second batter Hernandez hit, although he is certain he hit only one.
"There was only one. The other was a foul ball," Hernandez said.
Like us on Facebook
Follow us on Twitter & Instagram