Feldman's Top 10: Utah-Florida is a playoff matchup right now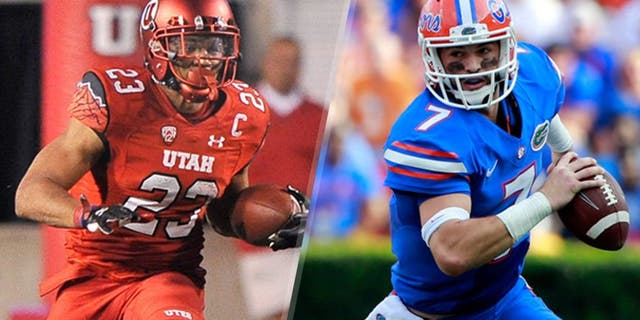 Lots of crazy results on Saturday have shaken up my FOX Four Top 10 ballot.
1. Utah (4-0): The Utes were off after throttling Oregon at Autzen. Their Week 1 win over Michigan keeps looking better and better.
2. Baylor (4-0): Texas Tech is very shaky on D and potent on offense, but Baylor blew them off the field, as the Bears have everyone else. The 28-point win is the closest game BU has had all year.
3. Oklahoma (4-0): WVU is a good team with a tough defense and Baker Mayfield and the Sooners lit them up as the new OU offense continues to heat up.
4. Florida (5-0): Jim McElwain may have just jumped past Kyle Whittingham for early Coach of the Year honors. UF stumbled through September and remained unscathed but then kicked off this month with a bang, beating Ole Miss by 28.
5. Clemson (4-0): Hung on to beat a good Notre Dame team at home in the rain, showing a lot of grit on D.
6. Ohio State (5-0): Barely escaped against an improved Indiana squad but has been underwhelming for much of the early season.
7. TCU (5-0): Smashed a bad Texas team, 50-7, after squeaking past Texas Tech last week in spite of a bunch of injuries.
8. Northwestern (5-0): Shut out Minnesota as Pat Fitzgerald's D keeps rolling on. Wildcats' Week 1 win over Stanford also keeps looking even better.
9. LSU (4-0): In Fournette we (still) trust.
10. Michigan State (5-0): The Spartans have had their hands full with almost every opponent, including hapless Purdue this week, but I'll still go with MSU here over A&M and FSU at this point.
Bruce Feldman is a senior college football reporter and columnist for FOXSports.com and FS1. He is also a New York Times best-selling author. His new book, "The QB: The Making of Modern Quarterbacks," came out in October 2014. Follow him on Twitter @BruceFeldmanCFB and Facebook.