Feldman's SEC picks: Elite RB duo, stacked D-line bring Alabama title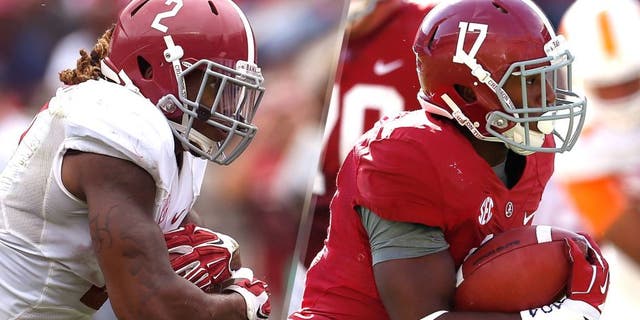 I still think the SEC is the best conference in college football, but if things play out the way I believe they will in 2015, it wouldn't shock me if the league is at risk of not having a team in the College Football Playoff. For the second consecutive season there is a dearth of established quarterbacks and my hunch is that it will take some time for many of these eventual starters to get settled.
I'm picking 'Bama, again, to win the SEC. Having seen the Tide up close this spring, I came away convinced Nick Saban's got more quality big -- make that huge -- guys than anybody has had in college football in years. They're 10-deep on the D-line and will have a much improved O-line. 'Bama should be able to better people with the rushing combo of bruising Derrick Henry and change-of-pace back Kenyan Drake. I also think their corner play, which has been an issue the past few seasons should improve some.
However, I do expect to see the Tide stumbling on the road at A&M and then at Miss. State. Both of those games come at tricky times. The Aggies have a bye week leading into the game and 'Bama is coming off a game against Arkansas, the most physical team in the conference -- and maybe the country (See: Body Blow Theory). MSU hosts 'Bama after the Tide plays LSU and the Bulldogs have a few extra days since they'll be coming off a Thursday nighter. Also, I suspect 'Bama's QB situation will be a headache. Unlike last year, there's no Amari Cooper to rely on.
In the end, though, the SEC West will be decided in the Iron Bowl and I do like the Tide to outmuscle archrival Auburn.
A few other thoughts:
--I believe A&M is on the rise. The Aggies have two very good young QBs and the best receiving corps in the conference. (Watch out for FR Christian Kirk. He's a stud.) New DC John Chavis also takes over a defense that is coming of age at a good time. There's finally depth on the defense led by budding star DE Myles Garrett. JC transfer Justin Evans brings much needed play-making savvy to the secondary. In 2016, the Aggies should be a legit national title contender.
--I'm higher on LSU than Stew and many of my peers. Expect Brandon Harris to blossom and shore up the suspect QB situation at some point this fall. He has a terrific arm, good feet and has come a long way from being a true freshman in 2014. Plus, being able to lean on RB Leonard Fournette will help. The reason why I don't think the Tigers are a top 10 team, though, is this is the weakest they've been on the D-line in a while. On the bright side: they have studs at middle linebacker (Kendell Beckwith) and at safety in Jamal Adams.
--Like the Aggies, I think Tennessee is a year away from being a true top-10 caliber team. However, I still see the Vols, with two good tailbacks and a crew of gifted young D-linemen, giving Georgia a run for the East title. I don't think UT has quite as much depth as the Dawgs, but the gap is closing. Fast.
--It's been six years since Kentucky has had a winning record, but the 'Cats are on the rise. Mark Stoops has recruited extremely well and it's going to start to really pay off. UK has two gifted QBs and a RB ready to emerge as a star, Boom Williams.
Predicted standings:
Championship: Alabama over Georgia