Feisty Rick Pitino denies giving UK fans the finger and addresses scandal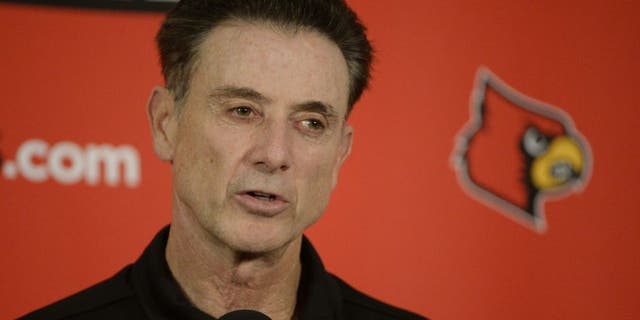 For months, University of Louisville men's basketball coach Rick Pitino has barely talked about the NCAA investigation into his program, but he apparently turned over a new leaf on the first day of 2016.
Six days after he may or may not have flipped off Kentucky fans when his current team lost to his old team in Lexington, Pitino denied making an obscene gesture. Then he spent roughly the final 15 minutes of his news conference seguing into his frustration with the scrutiny that has surrounded his program since an escort made allegations in a book that one of Pitino's former staffers hired her and other dancers to strip and have sex with recruits on multiple occasions.
First off, the denial of the wayward finger in Lexington followed by an explanation of why he didn't show up to a postgame news conference, via a full transcript at Louisville's WDRB.com:
"I did not [flip off fans]. It wasn't fans, per se, I was in the tunnel, and it's really not important. And I'll say this to you guys, you guys think it's important, and I respect if you say I should show up for a press conference and you write it. ... That's not what I'm pissed off at you about. There's a lot of other things. That's fine. That's your opinion. You have a right to your opinion. I said it 36 hours before the game ... I wasn't doing the press conference because it's a very emotional game for me. When we go into a press conference in a neighborhood like that, I don't want to hear about the scandal, OK? I don't want to hear about that. That has bothered me every single night."
On why he's not going to talk about the investigation, other than on Friday, of course:
"The NCAA is upset at me because if I say, I can't find one person, not one, that knew anything about it, the NCAA says you're intimidating the witnesses. That wasn't my intent to say that. So that's why I didn't go to media day. They're telling me I'm intimidating. Well, soon as this happened, I went ballistic on everybody. Wait a second. You didn't know one, single thing? The security person. You never saw a thing in four years, and you worked for four years around the clock? No. Well, the answer's obvious isn't it, Rick, isn't the answer obvious? The reason that nobody saw anything, they knew that all hell would break loose if I found out that one, single thing was going on. That would be the obvious thing to me. So I don't want to put myself out on a press conference like that, not for you, not for you, you've already asked your questions. But for other people who are going ask that question that you just had to ask --€" you wouldn't ask it, but you're working for people. So I'm not going to say no comment. I'm not going to say it. I'm too old. I don't care, OK? So I'm not going to say it. There's only one good thing about being 63, is you don't care what people think anymore."
On the progress of the NCAA's investigation:
"No, I have not been interviewed myself yet. You know what's going to happen. It's ... I think they've got to contact every recruit that's come in here first. Then they go forward. Look, they still haven't resolved North Carolina and how many years were they with Syracuse, how many years did it last? Two, three, four years. North Carolina, it's been going on how long? ... I think the earliest this is going to go is July. I think that's the earliest you'll see anything resolved."
On when he might choose to talk about all this again:
"So that's the last I'll mention it. I'm sure you're thankful of that. But I do want to wish all of you a happy new year. I'm proud of the team we have right now. I've had more fun coaching this basketball team every single day than I've had since I've been here. And I think it will carry over into next year. And I think it will, if we get Wake Forest and get on a good home winning streak, I think some good things will happen to this basketball team come March."