Feb. 23 Brewers spring training notes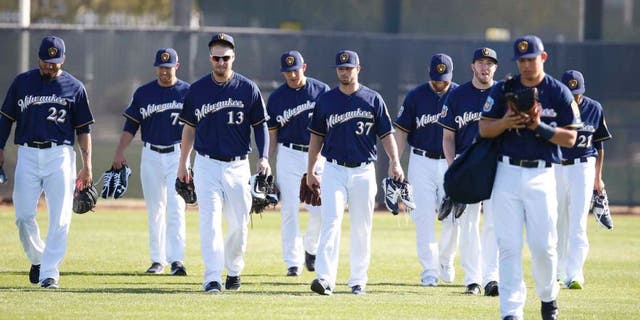 In case you weren't sure, Milwaukee Brewers manager Craig Counsell said Tuesday that Jonathan Villar, who was acquired from Houston back in November for minor-league pitcher Cy Sneed, will be the team's starting shortstop.
We probably should put an asterisk next to that -- at least until prospect Orlando Arcia is ready. But Villar will have the chance to make a quick impression.
"It's his job and it's a great opportunity for him to make the most of it," Counsell said. "He has big-league experience, certainly, and he has big-league experience at the position. As a young player got experience, some struggles, some successes and now kind of that foundation to really take off."
Villar played 145 games at shortstop for the Astros from 2013-14 with 135 starts. He played in just 53 games overall in 2015, seeing time at short, third, second and the outfield, as Houston called up phenom Carlos Correa. Last season, Villar batted .284 with a .414 slugging percentage. He turns just 25 years old on May 2.
"We're confident he's going to be a shortstop. Because of their roster needs in Houston, he needed to play other positions," Counsell said. "But he's going to be our shortstop."
Counsell did note that the Brewers "need shortstop play" besides Johnny. Yadiel Rivera would seemingly the best bet for a backup position, but Counsell, in discussing the middle infield, outlined his philosophy.
"What I'm looking for from my defenders is make the plays within your range," he said. "Be very consistent within your range."
Rule 5 picks: The Brewers have right-handed pitcher Zack Jones and infielder Colin Walsh in camp. Both were selected in the Rule 5 draft, meaning they need to stay on the major-league roster all season long or be offered back to their original team for half the cost of selecting them in the draft. Counsell noted Walsh will get looks at second base and third base.
"I think we're at the point with Zack and Colin is exposure. We're going to try to get them exposure in games," Counsell said. "Roster decisions to me have not started yet. They have a six-week tryout, that's what it is. We can't sugarcoat that. It's a big commitment."
Developing a catcher: Jacob Nottingham, acquired in the Khris Davis trade from the the A's, made a good first impression with the Brewers manager.
"The first impression is that he's only 20 years old. He's a big man. He's an open kid, which is great. He's a hard worker and he wants to get it right," Counsell said. "Has an advanced approach from a hitting perspective. Catching-wise, it is certainly something we feel like in this organization we have been good at developing. So he's in a good spot to get better."
The new guy: Counsell said Sean Nolin, just picked up on waivers from Oakland, "was a promising prospect at one time" and despite a tough 2015, Milwaukee sees "talent there." Although Nolin has been a starter throughout his career, Counsell said the Brewers will try him out in the bullpen and see what effect that has.
"If they want to me start, middle relief, wherever," Nolin said. "Another lefty option, there's two of us instead of one."
Speed kills: Non-roster invitee Eric Young Jr. said he added boxing to his offseason workout routine to help improve his hand-eye coordination. But Young knows what is his most valuable asset.
"Obviously speed is a big part of my game and I really want to try to utilize and take advantage of it as much as possible," he said.