FANTASY PLAYS: Consistency sets Luck, Peyton apart among QBs; some like Rivers sneaky-reliable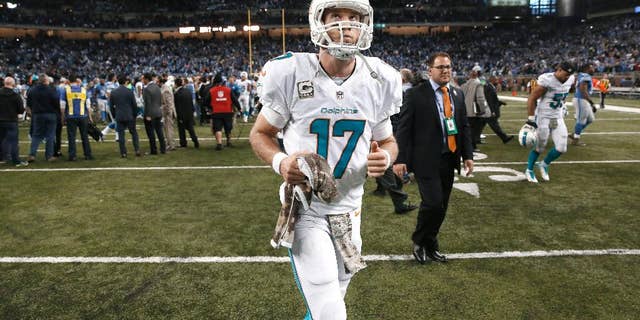 Quarterback is often an afterthought in fantasy football — unless you're in a two-quarterback league, where chaos is a key part of the fun.
But this year has been maddening in any league to find consistency among passers. It's clear that anyone starting under center will have an opportunity at some point to realistically put up stats worth starting in a fantasy league.
Only two — Andrew Luck of Indianapolis and Denver's Peyton Manning — have posted top-12 fantasy lines every start this season under standard scoring. Not surprisingly, they're also the best two quarterbacks in the fantasy game, with Luck averaging 24.5 fantasy points per game to 24 for Manning.
Through 10 weeks, a total of 37 quarterbacks have had games finishing in the top 12 at the quarterback position for the week (12 is a good measurement because it's the typical size of a fantasy league).
Yes, that's more quarterbacks than teams in the NFL. We didn't say the list was pretty — it includes names like Chad Henne, Jake Locker and Mike Glennon.
Only 10 quarterbacks have finished top-12 more than half the time. And Carson Palmer is out for the year, Ben Roethlisberger is posting boom-or-bust fantasy lines and Jay Cutler, like the Bears, is in a bit of a rough patch.
The varied list of quarterbacks finishing with strong numbers means the position can't be one you ignore even in a standard league where players like Mark Sanchez, Brian Hoyer and Alex Smith are largely available as free agents.
Ryan Tannehill — available in more than half of ESPN leagues — is the 12th best quarterback in fantasy this year, averaging 16.3 points per game. He's also only had three games in the top 12.
Here how some other passers stack up when considering consistency:
PHILIP RIVERS
The San Diego quarterback has fewer fantasy points than Big Ben and Tom Brady, yet he's had more games as a top fantasy option with six compared to five for the other players.
Fantasy players who drafted Rivers are even happier about that output considering he was the 15th quarterback drafted on average in Yahoo leagues, well after Brady and worse fantasy options this year including Cam Newton, Matthew Stafford and Matt Ryan.
JOE FLACCO
A look at the standings says the Baltimore Ravens quarterback is the 10th best fantasy quarterback, better than Tony Romo and Matt Ryan. Yet Flacco has scored 15 or fewer points in most of his games this year, including 4 points at Cincinnati in Week 8 and 7 points at Indiana in Week 5.
He's still throwing in the majority of fantasy leagues. Don't be tricked by his 305-yard, five TD performance against Tampa Bay.
MARK SANCHEZ
Sanchez became one of the most added players in fantasy following his 21-point performance against Carolina on Monday night and the spark he gave the Eagles the week before when Nick Foles became injured.
It's impossible to judge consistency based on less than two games, but Sanchez was the fourth-best quarterback last week and the Eagles are one of the best teams in the league.
Foles, in similar circumstances, posted three weeks in the top 12 among quarterbacks.
___
Oskar Garcia can be reached on Twitter at http://twitter.com/oskargarcia