FANTASY NASCAR: QuickTrip Folds of Honor 500 Driver Picks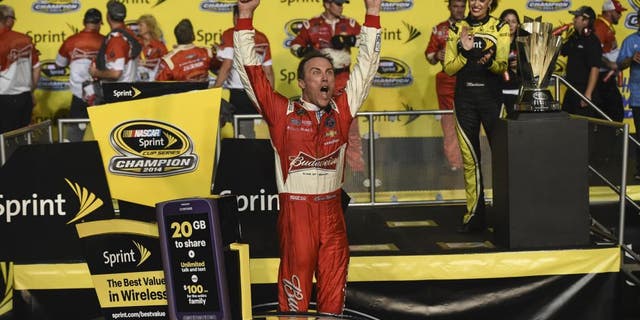 The NASCAR Sprint Cup Series travels to Atlanta Motor Speedway this week for the QuickTrip Folds of Honor 500. The race can be seen Sunday at 1 p.m. ET on FOX. Plus, you can test your NASCAR knowledge by competing in FOX Sports Fantasy Auto Racing.
The 2016 season kicked off with the closest finish in Daytona 500 history. Dale Earnhardt Jr. was the driver to beat but his No. 88 Chevy could not keep up with the Toyotas from Joe Gibbs Racing. What happens at Daytona usually does not translate over to the smaller tracks, but if Joe Gibbs Racing dominates the race at Atlanta like they did at Daytona it could be a long year for the other organizations.
Atlanta Motor Speedway provides some of the best racing of the year. The track has everything; tires wear out quickly, multiple-groves in the track and fuel mileage. Fantasy teams will want to look at the 10-lap averages posted after Happy Hour practice Saturday to see which cars can maintain speed over the course of a run.
This will be the first race that the Sprint Cup Series will use the 2016 aero-package. The cars will have less spoiler and cause less down-force making them harder to drive. This is setting up to be a driver's race. The series used this package at Kentucky and Darlington last year and the drivers from Joe Gibbs Racing, Kevin Harvick and Joey Logano dominated the races.
2015 Kentucky Results
1. Kyle Busch
2. Joey Logano
3. Denny Hamlin
4. Carl Edwards
5. Matt Kenseth
2015 Darlington Results
1. Carl Edwards
2. Brad Keselowski
3. Denny Hamlin
4. Joey Logano
5. Kevin Harvick
The best strategy for fantasy players is to try to select the best drivers who start in the back of the field with a good chance of working their way to the front. This will allow fantasy teams to score the maximum bonus points for finishing differential. Here are some drivers who worked their way through the field last year at Atlanta:
Jimmie Johnson (Started 37th / Finished 1st)
*Kevin Harvick (Started 43rd / Finished 2nd)
Matt Kenseth (Started 36th / Finished 5th)
Martin Truex Jr. (Started 14th / Finished 6th)
Aric Almirola (Started 23rd / Finished 11th)
* Had to start at the back because of an engine change
Driver 1: Kevin Harvick $12,000
Driver 2: Carl Edwards $11,200
Driver 3: Kyle Busch $11,000
Driver 4: Matt Kenseth $10,000
Driver 5: Ty Dillon $5,000
Kevin Harvick is by far the best pick in the field this week. He has led 311 laps and has the series-best driver ranking in the last two races at Atlanta. His first win came at this track, so you would have to imagine that it is a special place for him. Look for the No. 4 car to be up front in the race Sunday.
Carl Edwards should be the driver leading the stable of Joe Gibbs Racing Toyotas this week. No driver wanted to see the new aero-package as much as Edwards and his results in the two races using the package in 2015 are a series-best. Edwards finished fourth at Kentucky and won the race at Darlington. He is my pick to visit Victory Lane this week.
Kyle Busch has been the hottest driver in the sport since the Chase started last year. Busch has finished five consecutive points-paying races in the top five. He missed this race last year, but Busch will make up for lost time with another top-five finish at Atlanta.
Matt Kenseth is one of the best drivers on the worn out track at Atlanta. He has the second-best average finishing position and the fourth-best driver rating in the last two races at the track. Kenseth is very good at moving through the field so he should be on your short list of drivers this week.
Ty Dillon will be filling in for Tony Stewart Sunday. Whenever you can select a driver at the minimum price in a car as good as the one from Stewart-Haas Racing you have to take him. Dillon's first ever Sprint Cup race was at Atlanta. He started 29th and finished 25th. He should be much better this week.
FOX Fantasy Auto Resources
And don't forget - prizes are on the line each race of the fantasy season! First, second and third place each win a prize. Plus, each race builds your point total for larger segment and season prizes.
*Stats from Driveraverages.com and career stats from Racing-Reference.Info...
If you need any further advice with your team, look for me on Twitter @MrFantasyNASCAR
If you like Fantasy NASCAR, LIKE my Fantasy NASCAR Tips Page on Facebook