FANTASY NASCAR PREVIEW: Pure Michigan 400 Driver Picks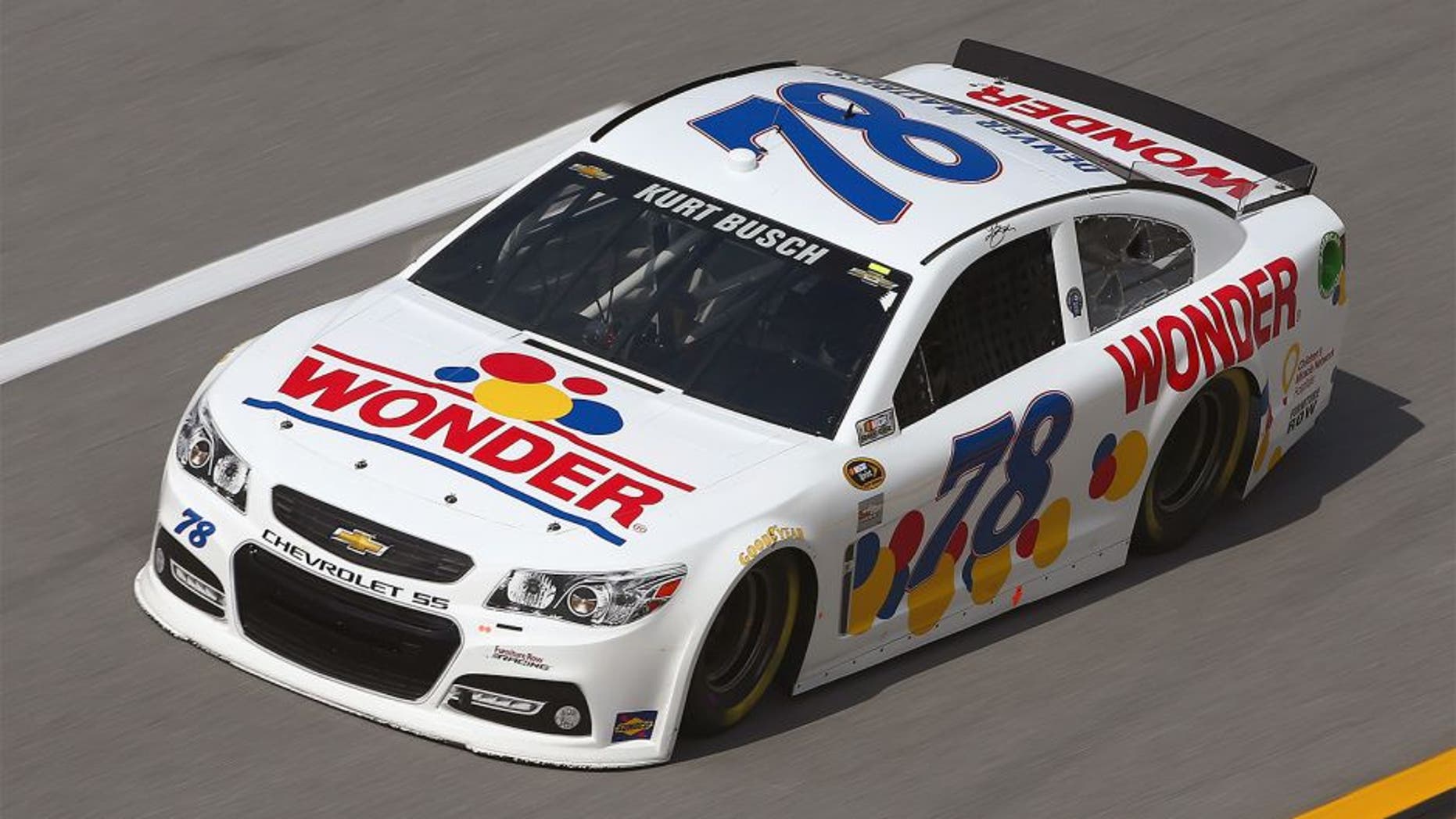 NASCAR returns to Michigan International Speedway this weekend for the Pure Michigan 400. This is the second and final race at the Brooklyn, Mich., oval for the season. We return to the scene of Kurt Busch's big victory in June at the two-mile oval. He took the lead from Kyle Larson and led the final 6 laps before rain washed out the event to capture his third-career victory in the Irish Hills. This has become the theme for this race track in recent seasons. It's not typically the strongest car and driver of the day that wins, but often times it's the team that surges in the final leg of the 400 miles and has the right pit strategy and timing at the end. In this case, weather came into play and become another variable in this equation. Considering that the driver of the No. 41 Chevrolet is battling for a good position in the Chase for the Cup entering this weekend, Busch will have high expectations coming to the Irish Hills of Michigan this time around. The Stewart Haas Racing star has two wins this season and will be looking to add to that total in order to improve his Chase for the Cup standing. The distinct possibility of a Busch Michigan sweep is on everyone's minds as we take on Sunday's Pure Michigan 400.
Despite the Busch sweep theme of this weekend, we have to acknowledge that it has mostly been Hendrick Motorsports teams and drivers that have been everyone's nemesis at this two-mile oval the last couple seasons. Prior to Busch's big win, three of the prior six Michigan trophies had gone to Hendrick drivers Dale Earnhardt Jr., Jeff Gordon and Jimmie Johnson. Penske Racing star Joey Logano grabbed one of those three wins in between the Hendrick victories. The Penske camp has been coming on strong of late with Logano's big win at Watkins Glen, don't discount a surprise performance from Logano or even Brad Keselowski in Sunday's Pure Michigan 400. Carrying the flag high for Joe Gibbs Racing at the wide-grooved speedway will be the hot teams of Kyle Busch, Carl Edwards and Matt Kenseth. These three drivers have combined for five wins at the big Michigan oval, with Busch being the last of those victories. The driver of the No. 18 Toyota won this event in 2011, and he stands his best opportunity in recent years of returning to victory lane at this oval.
As usual, we'll take a look at the loop stats for the last several races at this week's track to collect some recent data on the drivers. The table below has the loop data for the last 20 races at Michigan International Speedway. This information will be helpful, but we'll put some emphasis on the results from June's Quicken Loans 400, since it was only several weeks ago and we expect that the teams will utilize the same setups for this race as well. What worked in June will likely work well again this weekend. Here are the loop stats for the top-performing Michigan drivers, sorted by driver rating.
DRIVER
AVG FINISH
QUALITY PASSES
FASTEST LAPS
LAPS LED
LAPS IN TOP 15
RATING
Greg Biffle
10.9
920
311
500
3,265
107.1
Jimmie Johnson
15.3
766
411
565
2,857
102.5
Matt Kenseth
11.7
833
164
232
2,989
101.2
Carl Edwards
9.7
861
200
291
2,967
100.5
Dale Earnhardt Jr.
12.7
831
197
288
2,674
98.0
Tony Stewart
10.1
735
104
157
2,610
95.8
Jeff Gordon
15.4
678
232
264
2,546
93.6
Joey Logano
14.9
379
79
187
1,370
91.8
Kevin Harvick
11.5
656
153
124
2,161
90.2
Kurt Busch
21.3
652
179
324
2,518
89.9
Brad Keselowski
14.8
342
52
43
1,343
89.0
Kasey Kahne
17.1
751
178
60
2,238
89.0
Kyle Busch
18.9
685
139
169
2,464
88.3
Denny Hamlin
15.3
678
99
158
2,070
88.2
Brian Vickers
17.0
422
95
95
1,435
86.3
Clint Bowyer
14.6
595
36
27
1,975
82.5
Martin Truex Jr.
18.0
482
86
71
1,568
79.1
Ryan Newman
18.4
603
12
30
1,747
77.6
Austin Dillon
20.2
85
9
2
365
73.4
Aric Almirola
20.5
116
1
0
385
72.2
In the season's first running at Michigan International Speedway we can take away more information than just Busch's third-career win at the oval. The Quicken Loans 400 saw just 17 lead changes among 11 different drivers. Despite the five caution flags, fuel mileage and pit strategy were on everyone's minds, at least for a good part of the 400-mile race. Rain shortened that event to just 138 of the scheduled 200 laps, so that factor plays into these numbers to a great degree. We'll see more lead changes and more leaders assuming this Sunday's event goes the full distance. While everyone is focused on the sweep watch this Sunday, we can't lose sight of the other dominant teams coming to the Irish Hills. Could we see another Hendrick Motorsports driver dominate and win at MIS this weekend? Will Keselowski collect his first-career win at the oval? Will Dale Earnhardt Jr. surprise and pick up a third-career victory at one of his favorite tracks? Could Jeff Gordon successfully defend his race victory of a year ago? Will Logano step up and equal his strong Watkins performance of last weekend in this Sunday's Pure Michigan 400? We'll attempt to answer these questions and many more as we outline all the drivers you need to dominate the day at Michigan International Speedway.
The Contenders - Drivers in the hunt for the win
Kurt Busch - Busch has been a feast or famine driver at Michigan International Speedway over the years. The veteran Stewart Haas Racing driver has three career victories at MIS, but only a 35-percent Top-10 rate at the track. Busch's performances have been improving though since two seasons ago and since joining the No. 41 Chevrolet team. The former champion won the pole and finished an impressive third at the similar oval in California earlier this season, and he led 6 laps and won here in June. We expect Busch to race strong and contend for the win in Sunday's Pure Michigan 400.
Joey Logano - The Penske Racing driver is having a great season in the No. 22 Ford. Logano comes to Michigan a lofty second in the driver standings and battling for a top Chase berth. He's on pace to post career-bests in both Top-5 and Top-10 finishes this season. MIS will just be another piece of that puzzle to fall into place. Logano has close to 200 laps led for his career at Michigan International Speedway, and he won this event in 2013. He's practically become a specialist on these two-mile ovals. Logano is a strong fantasy racing choice for this event in the Sprint Cup Series schedule.
Kyle Busch - The Joe Gibbs Racing star is coming off another runner-up performance at Watkins Glen where the amount of fuel in his gas tank was all that kept him out of victory lane. After that great finish Busch now finds himself inside the Top 30 of the driver standings and now Chase for the Cup eligible. Now we visit an oval that's been a bit of a mixed bag for the veteran driver. Busch is a one-time Michigan winner, but his performances of late have been very shaky. Since the victory in 2011 he's only posted one Top-10 finish in the seven starts since that win at MIS. The luck has not been good, but we have good reason to expect a reversal this week. Busch won at the similar two-mile oval in California last season, and he's hot enough right now to put the No. 18 Toyota into victory lane this Sunday afternoon.
Kevin Harvick - The two-mile ovals have always been tracks of success for the SHR veteran. Harvick is a one-time winner at Michigan and one-time winner at the sister oval in Fontana. His recent performance has been nothing short of stellar. Harvick has one pole position and four runner-up finishes in the last six events at these style ovals. In June in the Quicken Loans 400, the driver of the No. 4 Chevrolet claimed the outside pole, led 63 laps and was denied a great finish due to the weather and some bad luck. Harvick has been narrowly missing victory lane at this oval recently, but that could change this Sunday afternoon.
Solid Plays - Drivers who are near locks for the Top 10 with an outside shot at winning
Brad Keselowski - After a good Watkins Glen performance and Top-10 finish, the Penske Racing star will be happy to make this homecoming trip to Michigan. Keselowski has been steadily improving on these two-mile ovals the last year or so, and he can't wait to mount another effort to win at his home state track. The last time the Sprint Cup Series visited the Irish Hills, he led 6 laps and finished sixth at MIS. The Penske Racing stable has been making gains at this facility, and Keselowski's performances here have mirrored that improvement. After the dust settles in the Pure Michigan 400, he could be hoisting the trophy in victory lane here for the first time.
Clint Bowyer - The MWR veteran has managed to hang tight in the championship picture with some good late-season racing. Bowyer owns 11 Top-10 finishes in 19 career starts at MIS, including an amazing string of nine-straight entering Sunday's Pure Michigan 400. The No. 15 Toyota was very fast here in June as Bowyer wheeled that car to a solid 10th-place finish at Michigan International Speedway. Given the quick turnaround from June's Quicken Loans 400 at the two-mile oval we would expect similar results in this Sunday's race at MIS.
Paul Menard - Menard has been a model of consistency at this two-mile oval in recent seasons. The Richard Childress Racing driver didn't post a single Top 10 in his first five years of Sprint Cup Series racing at Michigan, but he's made up for lost time in the last few years. Six of his last nine appearances have netted Top-10 finishes, and Menard rides a four-race Top-10 streak at MIS into this Sunday's Pure Michigan 400. The driver of the No. 27 Chevrolet and his crew chief Justin Alexander have figured something out about this oval and they keep employing it to good effect.
Dale Earnhardt Jr. - Each time we visit Michigan the Junior Nation is on our minds. The iconic driver seems to have a special understanding of this track and how to get to victory lane here. Earnhardt is a two-time winner at MIS since 2008, and nearly each time the series visits here, he's racing with the leaders. His 353 career laps led at Michigan, with close to 200 of those coming in the last seven events, prove his prowess at the speedway. Earnhardt's June outing at Michigan International Speedway netted an impressive runner-up finish, and he could venture into that territory again this weekend.
Sleepers - Drivers with good history at Michigan who can provide a solid finish
Jimmie Johnson - Johnson hasn't looked much like a six-time champion the last several weeks, but he's been fighting for Top 10s none-the-less. The Hendrick Motorsports star is looking to improve before the Chase for the Cup begins, and now is a great time for a potential turnaround. Johnson led 21 laps and finished ninth in this race one year ago. Given the team's current struggles, it may not be very likely that Johnson pulls a victory this weekend. However, the veteran driver of the No. 48 Chevrolet has nabbed three Top-10 finishes in his last four two-mile oval starts. That alone is reason enough to deploy Johnson in the Pure Michigan 400.
Carl Edwards - Edwards is a driver to watch closely this weekend as he's a great historical play at the Michigan oval. Since the Chase is fast approaching, the No. 19 team needs to shore up their position to assure a good Chase berth. MIS ranks as his best statistical track with two victories, nine Top 5s and an average finish of 9.8 in 22 career starts. Edwards has led 332 laps at the two-mile oval in Michigan, so he's used to racing up front here. Given his strong 68-percent Top-10 rate at the Michigan oval, the Joe Gibbs Racing star should chime in with a Top 10 in this Sunday's 400-mile race in the Irish Hills.
Matt Kenseth - When we visit Michigan we always think of the Wisconsin native Kenseth. In his 32 career starts at the huge, sweeping oval he's crossed the finish line first twice and piled up a stack of 19 Top-10 finishes. That works out to a lofty 59-percent Top-10 rate at MIS. You could say that this big oval feels like home for Kenseth and he indeed races like it each time we visit the Irish Hills. The Joe Gibbs Racing star qualified 12th and finished fourth at MIS earlier this summer. A Top-10 finish should be in store for the No. 20 Toyota team this weekend.
Jeff Gordon - Hendrick Motorsports had enjoyed a fair amount of success at Michigan over the years, and Gordon has been a huge part of that performance. The driver of the No. 24 Chevrolet has three-career wins at MIS and a mind-boggling 19 Top-5 finishes. Over the 45 career starts that works out to an awesome 42-percent Top-5 rate at the two-mile oval. Gordon won this event one year ago in a pretty impressive performance. That is something we should take heart in given the team's recent inconsistencies. If the bad luck can stay away this Sunday, the No. 24 team should take home yet another Top-10 finish in Gordon's final performance at the oval.
Kyle Larson - It's clear that Larson is the next budding superstar in the Sprint Cup Series. It seems that each week he visits a new track and never fails to impress. He's had his struggles in his sophomore season, but there are still plenty of good things to see and markers of his future excellence in this sport. Larson owns a pair of Top 10s in his five-career starts at Michigan International Speedway. While he wasn't that good here in June, the CGR driver still led 7 laps and nabbed a respectable 17th-place finish in the Quicken Loans 400. We believe he'll be even better than that this Sunday afternoon.
Ryan Blaney - Blaney will return to the No. 21 Ford this weekend and make his second-career start at Michigan International Speedway. His effort there in June was pretty impressive all things considered. The young driver qualified an impressive fifth on the starting grid, but ran into some pit strategy issues and finished a "not so bad" 24th-place at the end of the day. All-in-all it was an encouraging first performance for Blaney on a two-mile oval. One thing is for sure, he had plenty of speed in that Wood Brothers Racing Ford. We're willing to bet he easily cracks the Top 20 this time around.
Slow Down - Drivers to avoid this week
David Ragan - The Michael Waltrip Racing driver comes off a pair of subpar Top-25 performances at Pocono and Watkins Glen. Looking to the Irish Hills, the sailing won't be that smooth either this Sunday at Michigan International Speedway. Ragan has a long history at the two-mile oval, but a lot of disappointments as well. In his 17 career starts Ragan a pair of Top-10 finishes early in his career for Roush Fenway Racing. Since then, it's been a big struggle. No Top 10s and no finishes inside the Top 20 in his last seven starts. In June of this year he finished a disappointing 35th in the Quicken Loans 400.
Denny Hamlin - Hamlin is beyond struggling entering Michigan race week. The Joe Gibbs Racing star has had a poor season filled with inconsistency and struggling performances. With his 27th-place finish at the Glen last week, he's struggling with consistency as the season winds down. Thanks to his early-season win at Martinsville, he'll be a Chase participant, but could soon be eliminated racing like he is now. After registering a pair of wins at Michigan International Speedway in 2010 and 2011, Hamlin has only one Top-10 finish in his last eight visits to MIS. The situation is just far too risky to gamble a start on the No. 11 JGR Toyota team this Sunday afternoon.
Greg Biffle - The driver of the No. 16 Roush Fenway Racing Ford leads all active drivers with four career victories at Michigan International Speedway. Biffle's 10 Top-5 finishes here rank him fourth among active drivers. However, things have turned sour at Roush Fenway Racing the last couple seasons. Biffle is no longer the world beater at this oval that he used to be. In fact, his struggles have been seen at the sister oval in California as well. The veteran has only one Top 10 in his last five starts between Michigan and Fontana, and his last start at MIS was a woeful 36th-place finish in the Quicken Loans 400. The upside is there, but we can't see it fighting through the slump that this driver and team are in at present.
Tony Stewart - Despite a good qualifying effort at Watkins Glen last week, his old bad luck cropped again and a mechanical failure saddled him with a DNF in the Cheez-It 355 last Sunday. Smoke will once again pick himself up, dust himself off and try for a reset at Michigan this weekend. Despite a whopping 20-career Top-10 finishes at this two-mile oval, we can't recommend the No. 14 SHR team for this event. Stewart's two-mile oval prowess has dropped considerably the last couple seasons. His last three starts between Michigan and Fontana have netted finishes of 11th-, 14th- and 28th-place. The last of those, and worst, coming in this June's Quicken Loans 400 at MIS.
Taylor is a three-time FSWA Racing Writer of the Year.
Get a FREE RotoWire 10-day trial (no credit card required) at RotoWire.com.