Fantasy NASCAR: Las Vegas Kobalt 400 Driver Picks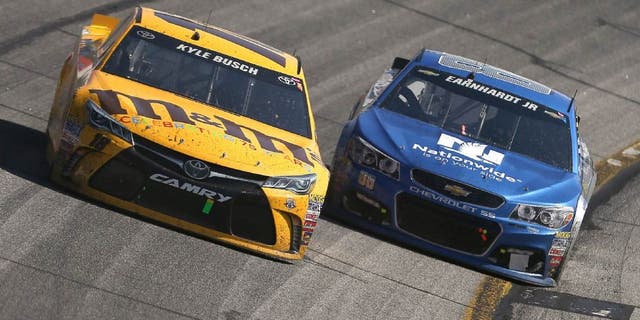 The NASCAR Sprint Cup Series travels to Las Vegas, Nevada this week for the Kobalt 400. The race can be seen Sunday at 3:30 p.m. ET on FOX. Be sure to test your knowledge of NASCAR by competing in Fox Sports Fantasy Auto Racing.
The much anticipated 2016 aero package made its debut at Atlanta and the drivers seemed to love the way the cars moved around the track. The race was supposed to be filled with more passing, but Kurt Busch and Kevin Harvin were able to lead 193 of the 325 laps. The first 211 laps were caution free. Do not expect this to be the trend. Most of the intermediate tracks are not as wide as Atlanta.
The drivers who dominated the race at Atlanta (Kevin Harvick, Jimmie Johnson, Matt Kenseth, Kyle Busch and Martin Truex Jr.) should be the same drivers who run well this week. These drivers have a history of finishing up front at Las Vegas and their teams are the best on the intermediate tracks.
Las Vegas Motor Speedway is the same size as Atlanta Motor Speedway, but that is about all they have in common. Las Vegas is a smooth track which allows teams to work on their cars so they can manage its tricky tri-oval shape. There will be two test sessions and three practice sessions for the teams to get their cars dialed in for Sunday. Expect the larger teams with more resources to have the advantage this week.
2015 Kobalt 400 Results
Kevin Harvick
Martin Truex Jr.
Ryan Newman
Dale Earnhardt Jr.
Denny Hamlin
The best strategy for the Kolbalt 400 is to try and find the drivers who can make their way from the back and finish up front. Last week Kyle Busch started 39th and finished third. He scored the most points in Fox Sports Fantasy Auto Racing (75 points). The scoring system rewards drivers who improve their position in the race more than the drivers who lead the most laps and finish up front. Kevin Harvick qualified sixth, led 131 laps, finished sixth, but only scored 37 points in the game.
Here are my picks for the Kobalt 400 for Fox Sports Fantasy Auto Racing:
Driver 1: Dale Earnhardt Jr. $12,100
Driver 2: Kyle Busch $11,800
Driver 3: Kurt Busch $10,700
Driver 4: Matt Kenseth $10,100
Driver 5: Chase Elliott $5,000
Dale Earnhardt Jr. is the best pick for your team this week. Everyone thinks of Earnhardt as only being good at the restrictor-plate tracks, but he actually has run better at Las Vegas the last three years. Earnhardt has a series-best average finishing position and a series-best driver rating in the last three races at the track. He is a great pick for your team this week.
Kyle Busch usually performs well in front of his hometown fans. He missed the race last year due to injury but finished the previous two races in the top 11. Busch has a streak of six consecutive finishes in the top five dating back to last year. He is the hottest driver in the sport and fantasy teams should keep selecting him until he cools off.
Kurt Busch also missed the race last year at Las Vegas, but I expect him to run well at his home track. Busch has not had as much luck in the desert as his brother, but the way he performed at Atlanta suggests he will have a fast car Sunday. Expect Busch to finish in the top five this week and lead many laps in the race.
Matt Kenseth had the best car last week until he was forced to serve a penalty for a violation in the pits. Kenseth is one of the best drivers at Las Vegas and he is my pick to get to Victory Lane Sunday for the fourth time in his career.
Chase Elliott has been the surprise driver so far this season. The rookie won the pole for the Daytona 500 and finished eighth at Atlanta. I was planning to wait and see how Elliott performs this season before I selected him for my team. The wait is over! Elliott is good and Hendrick Motorsports is providing fast cars for him to race. He is a safe pick for your team Sunday.
FOX Fantasy Auto Resources
And don't forget - prizes are on the line each race of the fantasy season! First, second and third place each win a prize. Plus, each race builds your point total for larger segment and season prizes.
*Stats from Driveraverages.com and career stats from Racing-Reference.Info...
If you need any further advice with your team or want to see my updated picks after Happy Hour practice, look for me on Twitter (@MrFantasyNASCAR) or LIKE my Fantasy NASCAR Tips Page on Facebook.